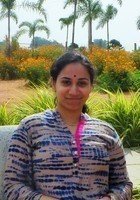 Vidya
Certified Tutor
I have a Bachelor of Science in Cell and Molecular Biology as well as an interdisciplinary certificate in Social Inequality, Health and Policy, with a focus on public health. During college, I also discovered a passion for classical (Greco-Roman) mythology and literature and made it my minor! I have completed my first two years of medical school and am now taking a break before completing my MD. I have always loved teaching and mentoring and hope to become a clinical educator one day.

My very first job was actually working as an undergraduate teaching assistant for a Classics course during college. I provided support for 18 freshman students in their first semester of college by teaching close-reading workshops, creating helpful handouts for essays and simply being a source of advice as they became acclimatized to studying for college. I really loved this experience and continued to be a peer mentor for other biology courses, where I created study guides and led weekly study group sessions. After graduating, I worked for a semester as a classroom tutor for the local school district, where I helped 70 seventh- and eighth-graders prepare for the state standardized test, through lectures, small group sessions and one-on-one mentoring.

I love science and have a passion for reading. I hope to inspire my students with my enthusiasm and cultivate in them a love for both science and reading.
Test Scores
ACT Composite: 34
ACT English: 35
ACT Math: 35
ACT Reading: 32
ACT Science: 32
MCAT: 35
MCAT Biological Sciences: 14
MCAT Physical Sciences: 11
Hobbies
Reading; singing; watching TV & movies; spending time with friends