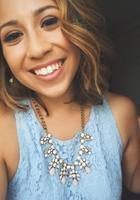 Michelle
Certified Tutor
Hello! Im a Chicago native who studied Sociology and Earth and Oceanographic Science at a tiny liberal arts college in Maine (Bowdoin). I spent a year teaching English in Poland and am currently teaching middle school science in San Antonio. As you can tell, I come from a multidisciplinary background!

Education & Certification
Undergraduate Degree: Bowdoin College - Bachelor in Arts, Environmental Science
Hobbies
I love salsa and ballroom dancing - I was a competitive dancer for many years. In my spare time I enjoy traveling and visiting new places - coffee shops, museums, outdoor parks, etc. Reading is a window into other worlds so I also enjoy getting my hands on new books, magazines, newspapers, etc (if my busy schedule allows for it)!
Tutoring Subjects
Adult Literacy
College Application Essays
Elementary School Math
Elementary School Reading
Elementary School Science
Elementary School Writing
GED Science
GED Social Studies
High School English
High School Physics
High School Writing
Middle School Reading
Middle School Reading Comprehension
Middle School Science
Middle School Writing
Music
Other
Piano
Polish
Social Sciences
Spelling Bee