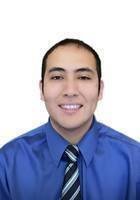 Javier
Certified Tutor
Currently working as a naturopathic doctor, I spend on my spare time helping students who struggle with basic sciences.
I have had extensive experience tutoring students and classmates alike in concepts that took much time to understand. From study groups to independent one-on-one, I feel very comfortable teaching a subject if I know it well.
In addition, I like to teach students by doing diagrams, repetition, visuals, and organize notes into lists with important vocabulary or formulas. Creating a study guide is essential to understand the concepts and do well on an exam.
Hobbies
Hiking, language learning, botanical medicine, Nutrition, Tibetan Medicine, Meditation & Self-awareness.
Tutoring Subjects
Anatomy & Physiology
College Biology
College Physics
High School Biology
High School Chemistry
Medical Terminology
Medicine
Middle School Science
Pharmacology
Spanish 1