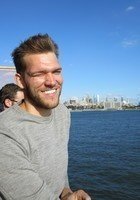 Jake
Certified Tutor
Hi! My name is Jake I have an undergraduate degree in mathematics from Binghamton university in New York and experience working in the software industry. I am widely read, and feel comfortable tutoring in a wide variety of subjects. I love helping students achieve their goals, I live in Devon PA and am willing to travel to surrounding area for tutoring sessions.

My teaching style is conversational and example based - over the years I've found that many people learn best through seeing application of theory. I am willing to adjust to any learning style, and have used flash cards, games, problem sets and other techniques to help students in the past. My areas of speciality are the SAT, and anything related to Math/Science. I really enjoy teaching and learning about calculus, algebra, geometry, and much more.

I am willing to make any accommodations you need, and am very flexible with the content of the lessons, and meeting locations. I really take pride in doing high quality work, and love to see my students succeed and achieve their highest potential. Most of my tutoring experience has been at the college level teaching math and physics - however I love working with students of all ages and ability levels. Please reach out if you have any questions, thanks!

Education & Certification
Undergraduate Degree: SUNY at Binghamton - Bachelor in Arts, Mathematics
Test Scores
SAT Math: 720
Hobbies
Hiking, Reading, Chess
Tutoring Subjects
Discrete Math
Elementary School Math
GED Math
GED Reasoning Through Language Arts
GED Science
GED Social Studies
High School English
High School Writing
IB Further Mathematics
IB Mathematical Studies
SAT Subject Tests Prep