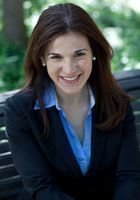 Katie
Certified Tutor
I am an enthusiastic and dedicated professional eager to teach and help students on their academic paths to success.
A graduate of the University of Notre Dame and the University of Chicago, I believe that a strong educational foundation will serve students well their entire lives.
My specialties include reading comprehension and essay writing for all grade levels. I am especially passionate about personal statements and essays used for undergraduate and graduate school admissions applications.
I look forward to working with you and helping you achieve your goals!
Hobbies
Writing, Running, Music
Tutoring Subjects
Adult Literacy
American Literature
Business
Business Writing
College Application Essays
College English
Conducting
Elementary School Math
Flute
GMAT Analytical Writing Assessment
High School Business
High School English
High School Level American Literature
High School Writing
Microsoft Office
Middle School Reading
Middle School Reading Comprehension
Middle School Writing
Music
PC Basic Computer Skills
Study Skills
Study Skills and Organization
Technology and Coding