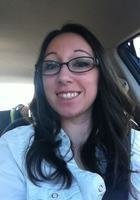 Kayla
Certified Tutor
I am working on teacher certification and would like to get experience helping youth learn before I begin a year of student teaching! I have studied psychology for 7 years (completed a masters degree!) and have basic knowledge in several other subject areas. Working in my current field, I have learned how to individualize learning experiences for clients. Everyone learns differently and I'm excited to find out how to best help you study and learn!
Education & Certification
Undergraduate Degree: University of Phoenix - Bachelor of Science, Psychology
Graduate Degree: Capella University - Master of Science, Clinical Psychology
Hobbies
Reading, playing games, and puzzles.
Tutoring Subjects
Adult Literacy
Clinical Psychology
Ethics
IB Psychology
IB World Religions
Law
Music
Other
Piano
Singing
Social Sciences
Vocal Training