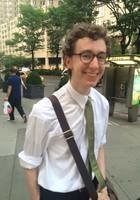 Michael
Certified Tutor
I graduated Summa Cum Laude from NYU in 2020, where I studied both Philosophy and Dramatic Literature. I began tutoring a few years ago, and I found that helping others get ahead through education was very rewarding to me. Most of that experience involved tutoring students in elementary or middle school, but I'm just as excited to work with older kids and adults. While I feel most confident teaching language arts and English skills, I have experience in teaching a wide variety of subjects, including math, science, and history, and I enjoy them all. Currently, I'm comfortable doing online tutoring or, after discussing safety and precautions, careful in-person tutoring.

I attended a very competitive private high school in the city where I studied Latin and began exploring my interests in writing and theater. At college, I participated in graduate coursework, independent research, and graduated with a 4.0 GPA in my Dramatic Literature major. I also continued my Latin studies and frequently tutored in the subject while in college. At the same time I also pursued a career as a playwright which took me to international residencies in Serbia, Italy and France and award-winning productions here in New York (I teach creative writing as well!).

An effective education looks different for everyone, and that as a one-on-one tutor I can approach the material a lot more flexibly than a school or a textbook. This belief is the grounding of my tutoring approach: I am here to help you, and that makes me extremely flexible, easy to work with, and low-stress. Please reach out with questions or to schedule a lesson!
Education & Certification
Undergraduate Degree: CUNY Hunter College - Bachelor in Arts, Theater Literature, History, and Criticism
Undergraduate Degree: Oberlin College - Bachelor in Arts, Philosophy
Test Scores
SAT Composite (1600 scale): 1520
SAT Math: 700
SAT Verbal: 770
SAT Writing: 750
SAT Subject Test in Literature: 770
SAT Subject Test in Biology E/M: 770
Hobbies
Theater, creative writing, humanities and arts