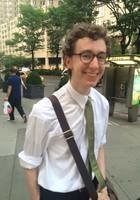 Michael
Certified Tutor
I am a student at NYU and a tutor in most K-12 topics with a focus on humanities, writing, and Latin. I really enjoy tutoring students of all ages, and I'm looking forward to meeting you!

I was born and raised here in New York City, and attended a private K-12 school before attending Oberlin College for a semester and then transferring to NYU. In between, I did some coursework at Hunter College. That's when I started seriously looking at tutoring. During high school, I had volunteered at the JCC's tutoring program, and with that experience I began to take on freelance clients (largely students between 7 and 14 who were looking for general homework help).

With younger students, I can easily tutor any subject, but personally I'm focused on the arts and humanities. In the past I've created lesson plans focused on creative writing for students of various ages, which I find can really help with effective writing and reading in many other subjects. I also chose to describe my undergraduate path in detail to indicate that I have experience with several different institutions and types of institutions, and so I can help high school students with the college application process as well as standardized testing.

Aside from tutoring, I really enjoy going to theaters, museums, and readings around the city. I'm always interested in talking to new students, so please feel free to reach out!
Education & Certification
Undergraduate Degree: CUNY Hunter College - Bachelor in Arts, Theater Literature, History, and Criticism
Undergraduate Degree: Oberlin College - Bachelor in Arts, Philosophy
Test Scores
SAT Composite (1600 scale): 1520
SAT Math: 700
SAT Verbal: 770
SAT Writing: 750
SAT Subject Test in Literature: 770
SAT Subject Test in Biology E/M: 770
Hobbies
Seeing plays, creative writing, acting and performing