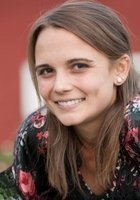 Marisa
Certified Tutor
I am currently finishing a Bachelor's of Science in Neuroscience at the University of Texas at Dallas. I also have a minor in Spanish and Latin American Studies. I have been accepted to dental school at the University of Colorado and will be starting in the fall.
My biggest academic passions are the life sciences and Spanish. I love to learn about and teach biology and have worked as a teaching assistant to tutor other Neuroscience students at my university. I am conversationally fluent in Spanish and have traveled to various Spanish-speaking countries, including Nicaragua, Peru, Spain, and Cuba during college, where I worked and took classes in Spanish. I have tutored middle-school and high-school Spanish and currently teach basic reading and math to illiterate Spanish-speaking adults in Dallas.
I like to focus on the connections between ideas when I am learning and teaching others. I think understanding the importance of concepts helps students remember the details of those concepts more effectively. Learning is more efficient when a student can draw upon ideas he or she already knows, so I make sure I emphasize the relevance and importance of new information to my students.
Outside of school I like to run and ride my bike. I grew up in Colorado and I love to be outside and hike or run on the trails. I also like to ride horses and spend time with my three dogs. I am also interested in art, and studied Peruvian art while in Peru and Spanish art while in Spain.

Test Scores
ACT Composite: 34
ACT English: 34
ACT Math: 35
ACT Reading: 33
ACT Science: 35
SAT Composite (1600 scale): 1510
SAT Verbal: 760
SAT Writing: 770
Tutoring Subjects
Cell Biology
College Biology
Evolutionary Biology
High School Biology
Life Sciences
Social Sciences
Spanish 1