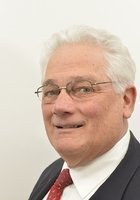 William
Certified Tutor
I am a financial leader with proven capabilities and significant experience in corporate finance, housing finance, and capital markets. I have spent most of the last 16 years working as an emerging markets financial advisor. In that capacity, I have demonstrated my project management, leadership and influencing skills through the successful completion of international financial development projects in Uganda, Liberia, Ghana and Kosovo.
With my experience in these projects and my private sector experience, I have shown the ability to manage cross-functional teams and manage change in a multi-cultural environment.
I possess highly effective communication and facilitation skills as confirmed by my successful financial training experiences. I have also demonstrated the ability to synthesize and interpret complex financial information for a broad audience.

I have my BA from Johns Hopkins University in Quantitative Studies and Computer Science, my MBA in Financial Accounting from the Wharton School, and I am a CPA.

Education & Certification
Undergraduate Degree: Johns Hopkins University - Bachelors, Quantitative Studies/Computer Science
Graduate Degree: Wharton School of University of Pennsylvania - Masters, Financial Accounting
Hobbies
Johns Hopkins Lacrosse
Tutoring Subjects
Business
Business Writing
College Accounting
Financial Accounting
Management
What is your teaching philosophy?
I believe in giving the student the fundamental knowledge necessary to understand a specific topic, and then I challenge them to play with the information through application of the knowledge rather than just play it back.
What might you do in a typical first session with a student?
Assess their level of understanding of the specific area of interest through discussion or problem sets. Discuss the student's areas of concern or misunderstanding of the specific topics of concern.
How can you help a student become an independent learner?
By helping the student develop the skills and understanding to pursue the topic of interest in an organized manner.
How would you help a student stay motivated?
Challenge the student and reward accomplishments.
If a student has difficulty learning a skill or concept, what would you do?
Dig into the possible reason(s) for the difficulty and address each of the reason(s) to enable a better understanding of the skill or concept.
What techniques would you use to be sure that a student understands the material?
Present them with a problem or situation needing the application of the material that may or may not be directly applicable. Ask the student to solve or present the process for solving the problem or addressing the situation.
How do you build a student's confidence in a subject?
Repetition, questioning, answering, building on success, and reinforcing understanding. Then, rewarding understanding and correct answers.