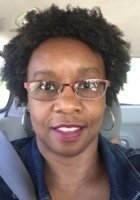 Dawn
Certified Tutor
I have a strong belief that every student can learn when provided with the proper support and when the subject matter is presented in a manner that supports the student's learning style. I have been tutoring students in various subjects since 2008 and love when the student has the aha moment.

I received my Bachelor of Science in Electrical Engineering from Northwestern University and my Master of Science in Child Development from Erikson Institute. With my engineering background, I have done much of my tutoring in math and science. I am also tutoring graduate students in writing.
Hobbies
Reading, traveling, sports
Tutoring Subjects
High School Biology
High School Chemistry
Middle School Science
Other
Study Skills
Study Skills and Organization
What is your teaching philosophy?
I believe that every student can learn when provided with the proper supports.
What might you do in a typical first session with a student?
I would meet with the student and the parents to ascertain what goal(s) they have and where the student struggles. I would let them know what my teaching philosophy and approach is. I would also let them know what my expectations are.
How can you help a student become an independent learner?
In order for a student to become an independent learner, they need to be giving strategies on how to approach the problems with which they are presented.
How would you help a student stay motivated?
It is important for the student to recognize that the only way that they will progress and achieve their goals is by taking responsibility for their learning.
How do you help students who are struggling with reading comprehension?
It might be necessary to provide books for the student that might be considered "easy" or "below" reading level. This allows the student to build confidence and move to higher competency levels. It is also important to know if there is a learning disability causing an issue.
What strategies have you found to be most successful when you start to work with a student?
For me, the biggest strategy is letting the student know that they can learn anything.
How would you help a student get excited/engaged with a subject that they are struggling in?
I think it's important to keep the subject matter simple, celebrating any and all student success.
What techniques would you use to be sure that a student understands the material?
The student needs to demonstrate that they are able to complete a problem, answer a question, etc., without any assistance from me. The student should also be able to explain the concept in his own words.
How do you build a student's confidence in a subject?
A student's confidence is built by celebrating the big and small successes.
How do you evaluate a student's needs?
I evaluate a student's needs by reviewing the student's work, and talking to the student and parents to get their input.
How do you adapt your tutoring to the student's needs?
Each student is unique and has a unique learning style. So keeping this in mind, I have to have multiple approaches to presenting information.
What types of materials do you typically use during a tutoring session?
For math subjects, I always have extra scratch paper, dry erase board & markers, and manipulatives, to name a few.