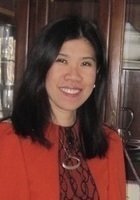 Lucy
Certified Tutor
Education is the best gift you could give to yourself (or others).

As an educator with a B.S. in Chemical Engineering from the University of Surabaya (Indonesia) and a master's degree in business from Middlesex University, London (UK) and continuing education at Virginia Commonwealth University, Richmond, VA (USA), I have witnessed and experienced that education makes communities - and myself - stronger. I am passionate in sharing knowledge with generosity, positivity, and empathy as well as in keeping abreast of new and improved approaches to teaching/tutoring.

I started tutoring Math, Physics, and Chemistry for high school students during college, then worked as a Development Chemist in Jakarta for a few years. For the past 10 years, I have been teaching/tutoring Math, SAT/ ACT Prep, Chemistry, ESL, and Phonics (Reading and Writing) for K-12 students and adults.

I strive to understand my students' individual needs and assess them before starting tutoring in order to effectively plan lessons and activities. I have always enjoyed learning new things, and I like to share my enthusiasm for learning with all my students.

My teaching philosophy is to build a love for learning, in whatever subject(s) interest a student. Students learning should be enjoyable, and it should be the tutor's responsibility to facilitate an enjoyable, yet educational environment for a student. Students should be encouraged to express any questions that he or she may have about an academic subject(s), allowing for two-way communication between the student and tutor. I want to motivate my students to achieve their full potential and to succeed academically.

In my free time, I read, go outdoors, do yoga, swim, and travel.

Education & Certification
Undergraduate Degree: University of Surabaya - Bachelors, Chemical Engineering
Graduate Degree: Middlesex University - Master of Arts, Marketing
Hobbies
Reading, Swimming, and Traveling
Tutoring Subjects
1st Grade Math
1st Grade Reading
1st Grade Writing
2nd Grade Math
2nd Grade Reading
2nd Grade Writing
3rd Grade Math
4th Grade Math
5th Grade Math
6th Grade Math
7th Grade Math
8th Grade Math
ACCUPLACER Arithmetic
ACCUPLACER ESL - Listening
ACCUPLACER ESL - Reading Skills
ACCUPLACER ESL - Sentence Meaning
Adult ESL/ELL
CLEP Prep
CLEP Chemistry
College Chemistry
College English
Elementary School Math
Elementary School Reading
Elementary School Writing
High School Chemistry
High School English
Microsoft Office
Middle School Reading
Other
Technology and Coding
What is your teaching philosophy?
To build a love for learning.