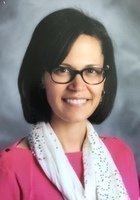 Louisa
Certified Tutor
I graduated from the College of William and Mary with a BA in History. I went on to earn a MEd from George Mason University in Curriculum and Instruction and a Master of Public Policy from George Washington University. I have taught high school social studies for 15 years, including US History, World History, and AP U.S. Government. In addition to classroom teaching, I have worked with students one-on-one, tailoring instruction and curriculum to their individuals needs.
Hobbies
History and Government, baking, knitting
Tutoring Subjects
AP US History
Civics
College Geography
College Level American History
College World History
High School Geography
High School Level American History
High School Political Science
High School World History
Homework Support
Other
Political Science
Social Sciences
Study Skills
Study Skills and Organization
US Constitutional History
What is your teaching philosophy?
I believe that teaching should be engaging and connected to students' lives. When teaching, I try to tie the lesson to current events or local issues. The more students can make connections between their lives and the events of the past, the more likely they are to remember them.
What might you do in a typical first session with a student?
I would discuss with a student what his or her goals are. Where do they want to end up? How do they think they could achieve that goal? What strategies have they used in the past, and were they successful? Answers to these questions will allow me to create an individualized plan for that student.
How can you help a student become an independent learner?
I can help a student become an independent learner by teaching studying and organizational skills that allow the student, over time, to take more responsibility and accountability for their own learning.
How would you help a student stay motivated?
I would make a plan with a student to achieve his or her goal. We would celebrate as the student reached certain milestones along the way. If a student isn't progressing, we would make changes to the plan or the strategies.
If a student has difficulty learning a skill or concept, what would you do?
I would try to explain the concept in another way that might include using visuals, video, or music.
What strategies have you found to be most successful when you start to work with a student?
Setting a goal or goals and creating steps to reach that goal.
How would you help a student get excited/engaged with a subject that they are struggling in?
I always try to tie the subject being studied to the student's life in some way. Even though they may not love learning about the federal bureaucracy, they can see how that bureaucracy impacts his or her daily life. I find the personal connection often pulls students into the subject.
What techniques would you use to be sure that a student understands the material?
I might ask students to verbally or in writing answer a few questions about the content studied that day. What is the worst effect of Reconstruction? How the does the Constitution create conflict in the government?
How do you build a student's confidence in a subject?
I would build a student's self-confidence by setting realistic goals and working to achieve them. As a student begins to see steady progress, he or she will gain confidence in their own abilities.
How do you evaluate a student's needs?
I ask students about their progress because many have an idea of how they are struggling. I would also like to see graded work from their teacher or instructor to look for patterns or see the teacher's feedback.
What types of materials do you typically use during a tutoring session?
If the teacher is using a text, I would like to have access to that textbook. However, I often use short readings, articles, and/or visuals to teach.
How do you adapt your tutoring to the student's needs?
Each student has his or her own tutoring goals. My instruction is based on those individual goals. If you want to improve your writing skills, sessions will focus on writing. If you want to prep for the AP exam, the session will focus on test content or format.