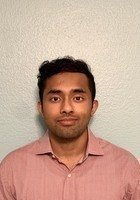 Abrar
Certified Tutor
Patience, determination, and a willingness to help -- this is what I looked for in a tutor when I needed help. I hoped to find someone who would give me a push in the right direction. I grew up hearing the adage, " treat people how you would want to be treated." Well, I tutor people how I would want to be tutored. With years of experience and a drive to teach, I have worked with students of all ages, ranging from elementary school students to college students much older than me. Alongside my exposure to many students, I have applied my pedagogy to different styles from one-to-one, small groups, and even classroom settings. So, I can shape my teaching style to best fit the needs of the students.

Math is more than just numbers and letters, but requires a breadth and depth of skills that students need to attain and hone to understand the concepts. I believe I can grasp a students unique weakness and cater to his or her needs much more appropriately than just assigning the same drills and hoping he or she can memorize steps. As a young, yet experienced tutor, I also believe I can relate and communicate better with the students and build a sense of camaraderie and comfort that students might not build with other qualified tutors.

Overall, I find joy sharing my knowledge to those around me and I hope my students too will find joy in learning from me.
Education & Certification
Undergraduate Degree: Stony Brook University - Current Undergrad, Biomedical Engineering
Test Scores
SAT Composite (1600 scale): 1480
SAT Math: 780
SAT Mathematics Level 2: 800
SAT Subject Test in Mathematics Level 1: 760
Hobbies
Basketball, Tennis, Netflix, Reading, Coding
Tutoring Subjects
10th Grade Math
11th Grade Math
12th Grade Math
1st Grade Math
2nd Grade Math
3rd Grade Math
4th Grade Math
5th Grade Math
6th Grade Math
7th Grade Math
8th Grade Math
9th Grade Math
Applied Mathematics
CLEP Prep
CLEP College Algebra
CLEP Precalculus
College Physics
Elementary School Math
High School Physics
Homework Support
IB Further Mathematics
IB Mathematics
ISEE-Lower Level Mathematics Achievement
ISEE-Middle Level Mathematics Achievement
ISEE-Upper Level Mathematics Achievement
Newtonian Mechanics
Other
SAT Subject Test in Mathematics Level 1
SAT Subject Test in Mathematics Level 2
SAT Subject Tests Prep
Summer
What is your teaching philosophy?
Tutoring has, in my eyes, always been a skill with no bounds, a craft with no limits. I can comfortably say that I can always improve my abilities as a tutor and face new challenges. I look forward to each student who takes the initiative to improve and seek help, because I too used to be that student not so long ago. Every student who comes to tutoring has a goal at hand.
How can you help a student become an independent learner?
By instilling confidence and a proper work ethic. Being an independent learner isn't easy; all the effort comes from you. You need an indestructible curiosity and a determined mindset to truly learn on your own. My goal is to reassure students that the questions they ask are good questions and the work they show has substance, so they can ride to success with no training wheels attached.
What might you do in a typical first session with a student?
Like any first time meeting someone, I would give a short welcome, introduce myself, and create a friendly relationship by getting to know the student as well. Then, I would smoothly transition into a civil learning environment. My goal on the first day is to have the student lay out their learning expectations, whether it be to attain a certain score on a test, gain a firm understanding of a subject, or receive acceptance into top universities. Typically, I also like to give a no-stakes fun quiz on popular topics in the subject I am teaching, so I have a good idea where the students stand and how they work. Although the quiz is laid back, the questions are always carefully chosen, because I hope to see how the student works through core problems. This helps me discern his or her weaknesses and tells me what I need to focus on. Why do I do this? Because developing and delivering first-day activities that build community, engages students in relevant course material, establishes course expectations, and models an active learning environment. This positively impacts students' motivation, expectations, and grades. Some students want to jump right into the content, because they have a test in two days. Others are looking for long term assistance and are willing to hear me out. To accommodate, I always have a mini lesson planned so the student can have a dynamic and educational first day. There is no second chance for a first impression, so I hope to have a productive first day with each of my students.
How would you help a student stay motivated?
The easiest students to motivate are students who have goals. I believe it is imperative that each student sets achievable goals. I want to help students set personal, positive, and specific goals, and manage time to fulfill these goals. As a tutor, I have high expectations for my students and hope to enable them so they can meet and even exceed these expectations. Why are goals so important? When a student has a goal, they have a direction. I want to steer my students toward that direction through assignments, readings, positive feedback, and constant reminders to stay on top of their constructed goals. Aside from goals, I believe it is important for an instructor to be motivated too. I only tutor in subjects I am enthusiastic in. I want to share my enthusiasm and help students see the fun side in math and physics. I want students to feel as comfortable as I do. With my own goals in mind, I only hope to demonstrate my enthusiasm with an energetic attitude.
If a student has difficulty learning a skill or concept, what would you do?
I would offer feedback. Transparency in communication comes from feedback. I want my students to share with me what they are specifically having trouble with. More often than not, students do not actually have difficulty in the specific concept, but the skills behind it that stem back to the fundamentals. Calculus is an extension of algebra and trigonometry, so if I see a student struggling with a calculus concept, I would take a step back and ask students fundamental questions to pinpoint weaknesses and slowly tackle them from there.
How do you help students who are struggling with reading comprehension?
I don't tutor in reading comprehension, so I wouldn't say I am an expert or have experience with helping students who struggle with reading comprehension. From how I have been taught, I would break the passage or reading into pieces and make reason out of it from there. To make sure I am on top of the content I am teaching, I would review the questions and their answers, so I can have a lesson plan that I can comfortably teach to my students. There are many reading comprehension skills that I can share with my students and have them practice these skills in the simplest of passages to the toughest.
What strategies have you found to be most successful when you start to work with a student?
How I like to work with my students is to constantly reassure them that they can grasp the content with ease. I want my students to know that they are capable, so that they will feel enabled to learn and give the content a shot. I stem the difficult topic back to its fundamental roots. Teaching advanced subjects, all students at least know the basics but struggle to extend and apply. I help pave that path through examples, immediate feedback, and review of the content to make sure it is more than ingrained in the student's head.
How would you help a student get excited/engaged with a subject that they are struggling in?
I would start off by sharing my own excitement and ensuring the student that they can find just as much comfort and enjoyment with the subject. There is nothing to be afraid of with the content and anyone can understand it, so there's nothing to sweat. Having a lively voice, an engaging attitude, and an earnest drive to teach students are the key components in this mixture. Giving students a sense of security in the subject they are learning is the first step to jump into the topic and truly learn.
What techniques would you use to be sure that a student understands the material?
These days, checking a student's performance on homework assignments is not enough. It is important to give numerous problems for students to solve right in front of you, so you can see how comfortably they solve them. This is the best way to see if a student understands the material. There are multiple ways to test a topic in math or physics. The examples are limitless, so why not dish out a few examples every class session? Why not question why they chose the procedure they did? These are the questions I keep in mind as I tutor my students.
How do you build a student's confidence in a subject?
I like to provide my students with positive, reassuring feedback throughout the lesson and independent work. I wholeheartedly believe every student is capable of learning the subjects I teach with just a push in the right direction. If self-confidence is the problem, then I will make sure my students feel capable. For every right, they will be praised. For every wrong, they will learn how to steer themselves to the right direction, will be praised for learning how to steer, and will be praised even more for every revised right.
How do you evaluate a student's needs?
Through communication. I feel like I can learn a lot just from the student, since the student is the one with the needs. They should know what they need to work on. However, quite often students do not know how to express their needs accurately or specifically, which will be clear from the communication. So, I start things off by asking conceptual questions about the topic at hand, assigning very basic practice problems, and just dishing out open-ended questions to really see where the student currently stands in terms of the content at hand. Then, I look back to what their expectations are and what goals they are looking to fulfill in their near future and make a conclusion from there. Works every time.
How do you adapt your tutoring to the student's needs?
My speed varies on the circumstance of the tutoring. If a student has an exam in two days, then I will focus on going straight to the point and giving the student the cold facts and how to learn them in a short period of time. If a student wants to master a subject he will learn next year, then I will take my time to ensure content mastery. If a student struggles, I cater to their immediate needs so they can feel comfortable with the content again. If a student is working smoothly, then I will pick up the pace to keep the momentum going.
What types of materials do you typically use during a tutoring session?
I typically use any content the student might have at home and if there are books that would be better for the student, then I highly recommend them. If I happen to have books of my own on the subject, then I use those for content. I also use the online platform learning tools for additional resources and to make sure I am not missing anything. Aside from the resources, I use my own knowledge and questions I recall.