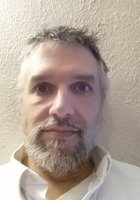 Shaya
Certified Tutor
I believe in the success of all students, no matter what their skills or background. I love facilitating that learning and creating their academic success.
Hobbies
I love the outdoors hiking etc. But I also am into all kinds of music and visual art.
Tutoring Subjects
AP Comparative Government and Politics
College English
College Geography
College Level American History
Comparative Literature
Executive Functioning
High School English
High School Geography
High School Level American History
Learning Differences
Other
Political Science
Social Sciences
US History
What is your teaching philosophy?
My philosophy is that every child can learn. It is the teacher's job to figure out how to be the most effective and assist every child with the learning process.
What might you do in a typical first session with a student?
The first session should be used to get to know the student, their likes and what motivates them.
How can you help a student become an independent learner?
By scaffolding the learning process so they can move from high levels of assistance to lower levels of assistance.
How would you help a student stay motivated?
By knowing their likes and aspirations, and likening that to the subject and what they are learning.
If a student has difficulty learning a skill or concept, what would you do?
Assess where they are struggling and, use alternative interventions to get them to understand the subject or concept.
What strategies have you found to be most successful when you start to work with a student?
Using a multi-modality approach with kinesthetic, audio, and visual learning methods.
How would you help a student get excited/engaged with a subject that they are struggling in?
By understanding their likes and aspirations, I can liken that back to the subject and keep them focused on their goal in life.
What techniques would you use to be sure that a student understands the material?
Frequent checks for understanding and formative assessments.
How do you build a student's confidence in a subject?
It is important to celebrate the small gains as well as the big gains to keep their confidence high.
How do you evaluate a student's needs?
It is important to review assessment data in order to know where a student is struggling and where a student is not.
How do you adapt your tutoring to the student's needs?
By knowing what motivates them and what their goals are in life, I can make sure to always incorporate this into the tutoring session, understanding that learning is very elastic and you need to be flexible.
What types of materials do you typically use during a tutoring session?
Anything from a laptop and calculator, to the basics used in writing, and anything that might be a motivator for a student; a clip of something they like, for example, highlights of a favorite basketball player.