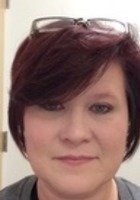 Pamela
Certified Tutor
I started college in Florida at Stetson University where I earned a Bachelor's of Arts in Education. I have since gone back to school and earned my Masters of Education degree in Literacy and Language Arts. I have been a teacher in New Hampshire since 1997. I started working with preschool, then I taught Kindergarten for nearly ten years. Upon going back to school I had the opportunity to work with older students and I have now been teaching grades six through eight since 2010. I love working with older students, especially talking about books, and writing. I have been tutoring for three years. I started with students at my school, helping them get ready to take entrance exams for high school. I also help students who are struggling in my classes and this summer I have been working with students I will have in the fall.

I believe every student is an individual and as both a teacher and a tutor I want to meet each student's individual needs. I want to help each student to work to his or her potential and help them in the areas in which they are struggling or want help rather than a what I think they need. If it's not a group effort, nothing will be accomplished. That's what learning is, a group effort, whether it's a group of two or a group of 30, everyone in the group has to be striving for the same thing or there won't be success. This also means that not everyone needs the same thing. Some students just need to be pointed in the right direction, others need more frequent check ins, still others need more directed help. This is where tutoring can really help an individual student.

I love to read, I'm in the process of researching to write a YA adventure novel, I enjoy paper crafts, calligraphy, and cross stitch. I am slightly obsessed with office supplies and I love color coding and using composition notebooks.
Hobbies
Reading, Cross Stitch, quilting, paper crafts
Tutoring Subjects
College Geography
College World History
Comparative Literature
High School Geography
High School World History
US History