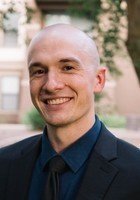 Stanton
Certified Tutor
People want success. People want to seem smart. People want to avoid doing more work than necessary. These desires guarantee people to lack the effort and discipline needed to learn, understand, and comprehend the nature of the world. Beneath the glories and praise typically associated with success and intelligence lies mounds of mistakes, countless trials amounted to failures, and feelings of frustration and of dimming hope. People don't want to work, yet people want to seem smart and people want to live a full life and achieve success. It's the undisputed contradiction that persists in life. However, it is also in the nature of people to accomplish and push beyond acceptance. An individual must have the drive and will to work and push beyond the fears of failure. Individuals who embrace their failures and are willing to change their accepted surroundings are those who learn. Learning is the essential component to attaining knowledge and intelligence. It is possible to lie and be perceived as smart. It is not possible to lie and embody knowledge.

I want to help, I want people to understand, I want people to help each other and achieve something great. I've made my mistakes, I've experienced my hardships, and I've made my failures. I haven't lost my hope. My hope has allowed me to push through my struggles and dark times, it has allowed me to experience a truer understanding of the world I live in. If there is one thing I believe I can accomplish, it is inspiring some sliver or glimmer of hope in people. I want to work with people willing to embrace who they are and have some sight of what they want to be. A person who has the effort and tenacity to become a better person than she or he may already be is a person willing to succeed and willing to endure the ugly truths of knowledge. Be willing to understand and embrace mistakes, and I'll be willing to learn from you.
Education & Certification
Undergraduate Degree: University of Arizona - Current Undergrad, Biosystems Engineering
Hobbies
Running, Movie enthusiast
What is your teaching philosophy?
Getting an 'A' and knowing the material are not the same. But if you know the material, you will be able to face your future challenges with confidence.
What might you do in a typical first session with a student?
Introduce myself and let the student speak their mind. I think a student can be taught best when you understand that student.
How can you help a student become an independent learner?
To become an independent learner, the student must be willing to understand their individual strengths and weaknesses on their own. I want to serve as a motivator that shows weakness can become strength.
How would you help a student stay motivated?
I would try to have the student identify what they value and consider important, and use that force to push the student.
If a student has difficulty learning a skill or concept, what would you do?
Take a break, strengthen another concept the student understands, return to the difficult learning material, and then break it down piece by piece, allowing the student to talk through the exact learning process, having myself only serve as a person to bounce thoughts off of.
How do you help students who are struggling with reading comprehension?
Focus on smaller/simpler reading material that the student wants to read, re-read sections, and write short summaries after each chapter without referring back to the reading material.
What strategies have you found to be most successful when you start to work with a student?
Be honest and willing to listen.
How would you help a student get excited/engaged with a subject that they are struggling in?
Focus on their strengths, talk about how they achieved attaining those skills, and apply similar concepts to their struggling skills. An engaged student is a confident student, so familiarizing a student with difficult material and practicing the material with no negative repercussions will strengthen the student's willingness to perform well and thereby become engaged in the subject matter.
What techniques would you use to be sure that a student understands the material?
I would have the student present the material to me verbally or explain step-by-step procedures verbally.
How do you build a student's confidence in a subject?
Confidence is built by a willingness to fail and understand what did not work. Removing negative repercussions from practicing the material will inspire the student to practice more since they have nothing to lose. The more frequent the student understands why their attempts at learning the material did not work, the more confident a student may become.
How do you evaluate a student's needs?
A student's needs should be based on the student's understanding. Their needs should consider what issues are holding the student back from succeeding.
How do you adapt your tutoring to the student's needs?
Listen to what the student wants, talk about the importance of understanding, and interact with the student while going through the learning material.
What types of materials do you typically use during a tutoring session?
Pencil, paper, a laptop, and small objects for physical representations.