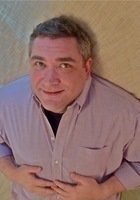 Jarrell
Certified Tutor
Teaching for me is more than a job; it is both play and a passion. I love the dynamic of engaging with other active minds, talking about ideas, practicing skills, and helping students to reach their educational and professional objectives. The arc of a student's progress over time makes a beautiful curve, and it's always a pleasure and an honor to start that movement with a gentle push and to guide it forward with consistent encouragement.

My programs benefit from a combination of my real-world background as a lawyer and over a decade of teaching and tutoring experience. I hold a B.A. in government, with high honors, from the College of William and Mary; a J.D. from the same institution; and a Ph.D. in English from the University of Pittsburgh, where I also teach courses in both literature and composition.

As a teacher, you will find me to be both rigorous and gentle: an authority in my subject areas but never an authoritarian in my tutoring strategies. I'll work hard with you to get you the best possible results, and we'll celebrate your achievements together.

I look forward to working with you!
Education & Certification
Undergraduate Degree: College of William and Mary - Bachelors, Government
Graduate Degree: University of Pittsburgh - PHD, English
Hobbies
Reading, writing, time with my dogs
Tutoring Subjects
Civics
College English
High School English
Introduction to Poetry
Law
Legal Writing
Other
Persuasive Writing
Social Sciences
Study Skills
Study Skills and Organization
Summer
How would you help a student stay motivated?
Learning always comes with a mixture of successes and setbacks. Successes motivate easily but do so even more effectively and powerfully when they are accompanied by a keen analysis of the sources of success. Each student needs to know how he or she was able to reach a milestone in order to focus on the critical skills that led to success. Setbacks can be accompanied by the same kind of analysis, leading a student to a concrete agenda of next steps to take and leading me to a set of methods for helping a student to reach those next goals. Having a plan in the face of a setback can be remarkably reassuring and motivating as well.
If a student has difficulty learning a skill or concept, what would you do?
Perspective is key. Skills and concepts can be approached from any number of angles and directions. Sometimes all it takes to reach a particular goal is to employ a new metaphor or approach. A teacher needs a flexible and agile mind capable of generating alternative perspectives as well as the sensitivity to determine when this kind of gear-shifting is necessary.
How do you help students who are struggling with reading comprehension?
Depending on the source of the difficulty, my focus might be on large-scale issues. For example, an easily understood analogy to explain to a student how he or she can reliably ascertain the thesis of a particular passage. Micro issues like vocabulary building of new or unfamiliar words seem to be the main obstacle in the path of understanding the passage.
What strategies have you found to be most successful when you start to work with a student?
Because every student is different, coming to the learning enterprise with a unique set of needs and strengths is important to gauge precisely where he or she is in order to foster the best possible learning environment. Fast-paced, immersive, and fun preliminary reviews can help to accomplish this objective.
How would you help a student get excited/engaged with a subject that they are struggling in?
Everyone loves the pleasure inherent in overcoming a challenge, conquering a difficulty, or acquiring a new skill. When a student is struggling in a particular area, my job is to remind him or her of the kind of joy that awaits success. Sometimes by getting the student to remember a time when he or she felt that kind of emotion after accomplishing a difficult objective.
What is your teaching philosophy?
To teach is necessarily to challenge.
What might you do in a typical first session with a student?
Teaching requires trust, so rapport-building activities are central items on the agenda for any first session. I enjoy learning about my students' hopes, fears, strengths, and needs, and students likewise want to know that they can trust me as a figure who has the skill and temperament to help them reach their objectives.
How can you help a student become an independent learner?
Even when teaching is heavily content-based it is both possible and rewarding to teach fundamental skills at the same time. Skills that transcend particular content areas and that can enable students to master material in other fields more readily and enjoyably.
What techniques would you use to be sure that a student understands the material?
Metacognition, thinking about thinking, is an important tool in any teacher's arsenal. I am satisfied that students have understood the material not just when they have answered questions correctly, but rather when they can explain the process by which they reached those correct answers.
How do you build a student's confidence in a subject?
Success almost never comes all at once. Rather, it is the product of reaching smaller, incremental goals that gradually build toward the achievement of a larger objective. Each milestone deserves to be celebrated and recognized as an important step along the journey toward mastery, and doing this makes students aware of the strides that they have made.
How do you evaluate a student's needs?
Ordinarily, a first session with a student includes some time devoted to determining exactly where he or she is along the arc of the learning process. Once I know the student's needs, I can meet him or her at this optimal point so that we can move forward together.
How do you adapt your tutoring to the student's needs?
Consistent monitoring of a student's progress is key. Some students thrive on faster paces, while some benefit from taking their time. Both approaches can work, and I devote careful attention to each student's progress so that I know how to calibrate our pace and the depth of our work together in order to achieve the maximum benefit.
What types of materials do you typically use during a tutoring session?
I am eminently flexible: the online platform has a wide variety of online materials available at tutors' disposal, but I also have a collection of materials that I have developed during my decade-plus of teaching and tutoring experience. Students may also feel free to request that I help them with materials that they themselves bring to the tutoring partnership.