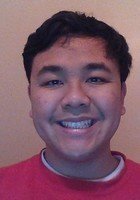 Kevin
Certified Tutor
I first realized I enjoyed tutoring during my upper classman years in high school. Many of my friends were underclassmen and were taking classes that I had already taken. If they ever struggled with homework or key concepts from class, especially a class they knew I had done well in, they often came to me to help them better understand the subject material.

My first tutoring job came during my freshman year of college; I was doing very well in Gen Chem 1, and my professor also liked me enough that he called me up after class one day to talk to me about my interest in tutoring a high school sophomore who was struggling in Honors Chemistry. We met once or twice a week, and he became increasingly confident with the class as the semester went on, even to help some of his own classmates in class.

I hail from Charlotte, NC, and I am a graduate from Independence High School; as a high schooler, I did well in all of my STEM classes and, though not my strong suit, my English and social studies classes. As a high schooler, I was heavily involved in the marching band as a trumpet section leader and as a volunteer at my church and a peer leader in the youth group.

I also attended Wake Forest University for my freshman year of college, intending to major in Chemistry and minor in Math. During my time there, I continued my love for band by joining the Spirit of the Old Gold and Black and crossing as a brother of Wake's chapter of Kappa Kappa Psi, an honorary band service fraternity.

I now attend UNC-Charlotte as a Philosophy Major, however I have taken math classes up to Multivariable Calculus and currently taking Organic Chemistry 2. With the Philosophy Major, I hope to utilize the critical thinking and analyzing skills, key characteristics of the major, to better understand and adapt my teaching style to match a student's thinking and learning styles.
Test Scores
ACT English: 33
AP Calculus BC: 5
AP English Language: 4
AP US History: 4
AP Music Theory: 5
Hobbies
I love playing my trumpet; I'm a video gamer at heart--I have a brand loyalty to Xbox; and I'm excited for the new string of superhero movies that are set to come out!
Tutoring Subjects
College Chemistry
High School Chemistry
Honors Chemistry
Other
Summer
---
What is your teaching philosophy?
You're not learning anything if it's not hard.
What might you do in a typical first session with a student?
I would spend 10 minutes to get to know the student: hobbies, extracurriculars, plans for college/careers, etc. The next 10-15 minutes would be spent to understand what specific areas in the subject the student is struggling in. The rest of the time would be divided between understanding the subject and using a couple homework questions as example problems.
How can you help a student become an independent learner?
I work a couple of example problems, and I speak through my thinking process as I go, and then I let the student work some harder problems, encouraging the student to think aloud.
How would you help a student stay motivated?
I try to add a humorous twist in every session to help not only with motivation, but also with understanding concepts, especially in STEM classes where humor is hard to come by. In this way, I hope when students use those memory devices, they can get a good laugh as they do their homework and especially their final exams. As they say: laughter is the best medicine.
If a student has difficulty learning a skill or concept, what would you do?
As a visual learner myself, I try to draw pictures or work step-by-step on more difficult problems. Also, when I had difficulty learning a skill, I always appreciated it when my partner was patient and encouraging with me and willing to go back and explain a certain step, even if it was the umpteenth time.
How do you help students who are struggling with reading comprehension?
Personally, I always break sentences down to what is extraneous and what is useful, especially in math word problems.
What strategies have you found to be most successful when you start to work with a student?
I find it helpful to find some common ground with the student; this is fairly easy since it hasn't been too long ago since I was in high school. This way, my relationship with the student is more as friends than tutor/student, which always makes it easier for me to communicate with the student.
How would you help a student get excited/engaged with a subject that they are struggling in?
I know that I was never excited for a class if I could never relate the subject to the "real world." I hope to convey my excitement of real world applications as a way to get the student to understand why learning the basics is fundamental.
---