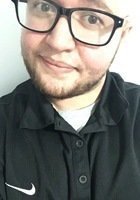 Dale
Certified Tutor
I am a graduate of the University of Wyoming with a Bachelor of Science in Mechanical Engineering. I have always had a passion for helping other people further their knowledge and comprehension. I started at a young age being drawn to the math and sciences in school, and was fortunate enough to be pretty good at them! However, I have also struggled in these subjects before so I believe my ability to connect and relate to students' common problems is a real positive. I like to approach every student as a person having a unique skill set and having different needs. Personally I believe it is important to build on strengths to overpower weaknesses, this also helps weaknesses or struggles be addressed even easier. I have a lot of experience tutoring informally for the fun of it to classmates, students that were underclassmen, and even family friends and relatives. When I am not learning more about math and science, I enjoy watching sports such as football, hockey, and baseball. I enjoy the mechanical side of cars, and very much like to tinker with them. I am excited to be able to help students grow and find a passion in math and science - even if that is a lofty goal to some!
Education & Certification
Undergraduate Degree: University of Wyoming - Bachelors, Mechanical Engineering
Hobbies
Hands on activities, vehicles, football/hockey/baseball, golfing, staying active, continue learning
Tutoring Subjects
10th Grade
10th Grade Math
10th Grade Reading
10th Grade Writing
11th Grade
11th Grade Math
11th Grade Reading
11th Grade Writing
12th Grade
12th Grade Reading
12th Grade Writing
1st Grade
1st Grade Reading
1st Grade Writing
2nd Grade
2nd Grade Reading
2nd Grade Writing
3rd Grade
3rd Grade Reading
3rd Grade Science
3rd Grade Writing
4th Grade
4th Grade Reading
4th Grade Science
4th Grade Writing
5th Grade
5th Grade Reading
5th Grade Science
5th Grade Writing
6th Grade
6th Grade Reading
6th Grade Science
6th Grade Writing
7th Grade
7th Grade Reading
7th Grade Science
7th Grade Writing
8th Grade
8th Grade Math
8th Grade Reading
8th Grade Science
8th Grade Writing
9th Grade
9th Grade Math
9th Grade Reading
9th Grade Writing
ACCUPLACER Arithmetic
ACCUPLACER College-Level Math
ACCUPLACER Elementary Algebra
Adult Literacy
Analytical Chemistry
ASPIRE Math
ASPIRE Science
CLEP Calculus
CLEP Chemistry
CLEP College Algebra
CLEP College Composition
CLEP College Mathematics
CLEP Precalculus
College Math
COMPASS Mathematics
Computational Problem Solving
Cost Analysis
Elementary School
Elementary School Reading
Elementary School Science
Elementary School Writing
Engineering
Expository Writing
General Chemistry
High School
High School Chemistry
High School English
High School Writing
History of Science
IB Mathematics: Analysis and Approaches
Life Sciences
Materials Science
Mechanical Engineering
Middle School Reading
Middle School Science
Middle School Writing
Newtonian Mechanics
Physical Science
MCAT Psychological, Social, and Biological Foundations of Behavior
Statics and Dynamics
Study Skills and Organization
Summer
Technical Writing
Thermochemistry
What is your teaching philosophy?
I believe that everyone should have the opportunity to be worked with individually to increase their understanding. It's important to relate to the student, and to try to connect ideas being learned in the subject and the outside world.
What might you do in a typical first session with a student?
Find out their strengths and weaknesses, and get to know them better as a person and an individual. Focus on what helps them learn better and try to facilitate and focus my efforts towards helping them.
How can you help a student become an independent learner?
Study tips, becoming self-motivated, and tricks to be able to stay focused on a subject, but not getting too burnt out at the same time.
How would you help a student stay motivated?
Pacing is important. Also, learning never stops, so it is very important to stay motivated. Some of the strongest motivation doesn't come from outside sources; it comes from self-motivation.
If a student has difficulty learning a skill or concept, what would you do?
Try and approach the problem a little differently, as some students react better to different types of exposure, and attacking a problem at a different angle.
How do you help students who are struggling with reading comprehension?
KWL charts to promote thinking, reading out loud to help trigger auditory learning and allowing them to think about what they are hearing and comprehend it.
What strategies have you found to be most successful when you start to work with a student?
Applying the material to all aspects of life and trying to connect with them on a person level, to make the subject a strong suit for them even if they don't love it!
How would you help a student get excited/engaged with a subject that they are struggling in?
Help them see progress and get the self-satisfaction that comes with learning something and growing your knowledge further. Weaknesses aren't permanent, and extreme progress that is quantitative can be seen quickly.
What techniques would you use to be sure that a student understands the material?
Reinforcement and challenging them on the true comprehension of the material, and making sure it isn't derived on memorizing facts and equations.
How do you build a student's confidence in a subject?
Start slow - continuously working towards their goal and showing them that it is possible to excel in a subject that they might be intimidated by.
How do you evaluate a student's needs?
Meeting with them, observing and capturing their needs through both measurable qualities and things that cannot be measured, such as motivation, confusion, misconceptions, etc.
How do you adapt your tutoring to the student's needs?
Each student is unique and no one has the same needs, strengths, weaknesses, or learning styles. It's important and my job to find the most effective way to help them reach their potential, in a way that is comfortable to them but still challenges them greatly!
What types of materials do you typically use during a tutoring session?
Online: Writing tablet, scratch paper and pencil, dry erase. In person: dry erase boards, paper and pencil, visual reproductions and aides.