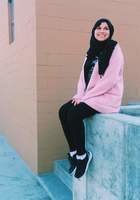 Summer
Certified Tutor
Hi! I am a recent graduate of the University of Kansas with a bachelor's of science in biology. I am very passionate about guiding others to their success whether it's through motivation or tutoring. I love helping students overcome difficult topics. My tutoring style is to be patient with students as well as positively reinforcing their achievements through words of encouragement. Currently, I am available to tutor elementary schoolers, middle and high schoolers, as well as college students.
Education & Certification
Undergraduate Degree: University of Kansas - Current Undergrad, Biology, General
Hobbies
Drawing, cooking, playing with birds and cats, and reading.
Tutoring Subjects
10th Grade
12th Grade Math
1st Grade
1st Grade Reading
1st Grade Writing
2nd Grade Math
2nd Grade Reading
2nd Grade Writing
3rd Grade Math
3rd Grade Reading
3rd Grade Science
3rd Grade Writing
4th Grade Math
4th Grade Reading
4th Grade Science
4th Grade Writing
5th Grade Reading
5th Grade Science
5th Grade Writing
6th Grade Reading
6th Grade Writing
Arabic
Elementary School
Elementary School Math
Elementary School Reading
Elementary School Science
Elementary School Writing
Handwriting
Molecular Biology
Neurobiology
Other
Probability
Virology