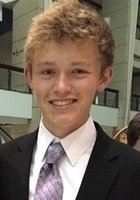 Trevor
Certified Tutor
I am a senior mechanical engineering student at the Colorado School of Mines. Using the knowledge I have gained and will gain at Mines, I want to become involved in the forefront of renewable energy technologies. I have been putting my goals into action the last two years by interning at the National Renewable Energy Laboratory doing research in photovoltaic reliability. In high school and college, I have gained experience mentoring peers and helping them not only succeed, but enjoy their school work. I believe that for a student to have an effective learning experience, the tutor must not only be passionate about teaching, but also about learning. As a passionate learner, I try to interpret the world around me, be that math, science, or why my garden behaves differently in Colorado than my family's in Nebraska. Early on in life, I loved numbers, patterns, and the problem solving nature of my parents' careers. This led to me enjoying math, science and engineering and turning those interests into a potential career. Using my passion for these subjects, I have tutored many middle school and high school aged students, along with helping my peers. Apart from learning, I enjoy solving challenging problems and puzzles, reading, being outdoors, and running on the varsity cross country and track and field teams at Colorado School of Mines.
Test Scores
ACT English: 34
ACT Math: 35
ACT Reading: 33
ACT Science: 36
SAT Mathematics Level 2: 790
Hobbies
Learning, running, sports, math, science, reading, fishing, hunting, outdoors, puzzles and brain teasers
Tutoring Subjects
10th Grade
10th Grade Math
10th Grade Reading
11th Grade
11th Grade Math
11th Grade Reading
12th Grade
12th Grade Math
12th Grade Reading
1st Grade
1st Grade Math
2nd Grade
2nd Grade Math
3rd Grade
3rd Grade Math
3rd Grade Science
4th Grade
4th Grade Math
4th Grade Science
5th Grade
5th Grade Math
5th Grade Science
6th Grade
6th Grade Math
6th Grade Reading
6th Grade Science
7th Grade
7th Grade Math
7th Grade Reading
7th Grade Science
8th Grade
8th Grade Math
8th Grade Reading
8th Grade Science
9th Grade
9th Grade Math
9th Grade Reading
Adult Literacy
American Literature
College Chemistry
College English
College Level American Literature
Comparative Literature
Elementary Algebra
Elementary School
Elementary School Math
Elementary School Reading
Elementary School Science
Engineering
General Chemistry
High School
High School Chemistry
High School English
High School Level American Literature
High School Physics
Homework Support
Mechanical Engineering
Middle School Reading
Middle School Reading Comprehension
Middle School Science
SAT Subject Test in Mathematics Level 2
SAT Subject Tests Prep
Statics and Dynamics
What is your teaching philosophy?
I believe that education (both in and out of the classroom) is one of the most important things in life. Learning how the world works and about the things that inhabit the Earth is an essential part of life. Students and teachers alike need to be passionate about learning about our surroundings.
What might you do in a typical first session with a student?
In the first session with a student, I would get to know them and how they learn best. Different people learn in different ways; some students may know exactly how they learn best, and some may not. This is something that I have to uncover through working with the student so the future of their education is meaningful and efficient.
How can you help a student become an independent learner?
Students can become independent learners by becoming passionate and motivated about a topic. It doesn't always have to be math or science. If a student is highly interested in learning about a specific topic, it is important to provide them with the support (in both materials and motivation) to pursue that interest and act as a catalyst for future learning.
How would you help a student stay motivated?
It is tough to keep all students motivated about many core topics in school, especially math. Many students feel that it "doesn't really matter" to them. While they may not have to use Calculus five years from now, it is important to motivate them to learn all they can about a subject because it allows them to think deeper in different ways (depending on the subject). Interesting topics must be introduced for some of these subjects to garner passion and learning.
If a student has difficulty learning a skill or concept, what would you do?
It is important try to rework a concept in order for a student to be able to learn it. This will be based on their learning style. For some, they may be able to better envision the volume of a shape if they actually feel and touch the shape, and to not just conceptualize what the shape is like.
How do you help students who are struggling with reading comprehension?
Like many skills, you have to work from the ground up. Reading comprehension is a great example of this. It is hard to understand dense literature sometimes, so we must work our way up to that. First, we must understand basic concepts in basic literature. Then we delve deeper and try to analyze each literary piece to the best of our ability. With enough practice, reading comprehension will improve.
What strategies have you found to be most successful when you start to work with a student?
Most students don't want to be staring at a book all day, so it is important to bring in new methods of learning. Humans learn best when we enjoy what we are learning, so often times I will create games or more interesting ways of approaching a topic.
How would you help a student get excited/engaged with a subject that they are struggling in?
I would find a way to teach the subject so that it's not out of a book or on paper. Many topics are much more interesting in the context of the real world.
What techniques would you use to be sure that a student understands the material?
Full comprehension can be indicated by the student being able to teach the material back to me. When you tell others about a subject, it solidifies that knowledge so much better than only hearing about it.
How do you build a student's confidence in a subject?
Confidence is built in steps. The student can't jump right in to the dense parts of a subject. Therefore, it is important to boost their confidence in steps. Once they are confident about subject A, they can more easily be confident about subject B.
How do you evaluate a student's needs?
Grades are a good indicator of how the student is performing in a subject, however, it isn't always related to how passionate a student is about a subject. Interest and performance in a subject are important, but the latter doesn't always lead to the former. Once I evaluate that the student simply isn't liking the subject, we can start from their and garner interest in the subject so that they are more interested in performing better.
How do you adapt your tutoring to the student's needs?
Each student learns differently, and can even learn differently depending on the topic. Once I can identify how they learn (be that hands on, from a book, or from watching others do it), I can more easily tailor how I should approach the subject.
What types of materials do you typically use during a tutoring session?
I love using the classic paper and pen, but also enjoy using whiteboards, educational videos and hands on activities to bring excitement into learning a subject.