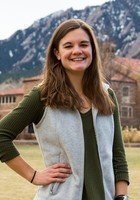 Emma
Certified Tutor
As a student myself, I understand the importance of having a thorough, passionate, and caring teacher. There's nothing worse than trying to learn from someone that is disinterested in what they're doing. When I am tutoring a student, my highest priorities are expressing my interest to help, having patience, and allowing the student to feel comfortable.
I am a student to the University of Colorado, Boulder working towards a major in Ecology & Evolutionary Biology, and minor in Mathematics. I have always enjoyed helping classmates and friends with schoolwork, especially mathematics. Ever since I can remember I have considered math to be one of my favorite subjects.
I am a friendly, energetic, and positive individual. I always take my work seriously and strive to perform at my best.
Hobbies
Hiking, running, biking, painting, travel
Tutoring Subjects