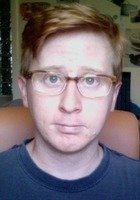 James
Certified Tutor
I am working towards becoming a nurse, largely because I feel I can explain complicated concepts to all levels of learners. I hope to reach out and help people to better understand and become proactive about their health. I feel quite passionate about helping people reach their full potential. Seeing people come to a comprehensive understanding of the ideas that they seek to learn brings me great joy. Formally, I was a literacy tutor at the Placentia Library during high school between the years of 2004 and 2008. Informally, I have acted as a tutor for children of many education levels within my family, lead study groups for fellow students, and edited many of my peers' undergraduate level papers. I have much experience reading, writing, and revising in the academic world and would like to share this experience with students at all levels of learning. I was once in their shoes, trying to learn, not only the subject matter itself, but also how to study in a way that best suited my needs. As I have learned through studying with others, there is no one-size-fits-all approach to studying as every student learns in different ways. In my tenure as a student, I knew how much difference a good teacher, tutor, or fellow student could make in my ability to grasp the subject and I hope to pass on my love of learning to others.
Hobbies
Art, music, film, politics
Tutoring Subjects
AP Economics
Business
College Business
College English
College Geography
Comparative Literature
High School Business
High School English
High School Geography
Homework Support
IB Economics
IB Economics SL
Macroeconomics
Other
SAT Subject Test in Literature
SAT Subject Test in Mathematics Level 2
SAT Subject Tests Prep
Social Sciences
Study Skills and Organization
Summer
---
What is your teaching philosophy?
I have found that there is no single method of teaching that works for everyone. It is, rather, about finding what works for each student based on how they learn. For example, some students are visual learners who benefit from having concepts drawn out for them, while other students are more kinesthetic learners who learn best through a hands-on approach where they actively work through concepts to understand them.
What might you do in a typical first session with a student?
During the first session, it is essential to gauge where the student is with the course material and where they will be headed throughout the school year. By doing so, one can determine how a student learns best and what areas may need focus in future sessions. Additionally, it is important to figure out what a class is asking of a student in order to adapt a plan of teaching that meets not only their learning needs, but ensures they have the tools to perform well in class.
How can you help a student become an independent learner?
There are some concepts students will be asked to learn that cannot be taught during tutoring sessions alone, such as rote memorization. But I can give students tools to maximize their study potential outside of tutoring. I can observe how a student learns best in their time with me, and explain how they can study similarly in their own time. Also, I can point them towards other resources, such as online flashcards, study guides, and instructional videos, which can help them to learn ideas independently.
How would you help a student stay motivated?
One way to stay motivated is by becoming interested in the subject matter. By connecting subjects to one's own life, learning can be seen as a way to engage in the world around us. When one wants to learn more about a subject, it doesn't seem like such a chore. However, there are some subjects a student has to learn that they may not find particularly interesting. In these cases, it is important to point to how any given subject connects to one's long-term goals. For example, I had great difficulty getting excited about math, but I realized that, while I may not use the information I was learning in the math classes I was taking in my future occupation explicitly, these classes were stepping stones to my future, and I was directly becoming more prepared for my future by improving my abstract thinking and analytical abilities by challenging myself. Also, it can be easy to lose sight of the forest from the trees when one is dealing with difficult subject matter, but when you take a step back, the progress one has made becomes clear.
If a student has difficulty learning a skill or concept, what would you do?
There are always different ways to come at different concepts. Explaining something in the same way over and over does not necessarily help one's understanding of that concept. Instead, one can use analogies, break things down step by step, and look at the concept in different ways.
How do you help students who are struggling with reading comprehension?
It is important to engage with the reading material, or else it is easy to forget what one has read. To do so, one can ask questions one may have and look for answers as they continue to read. One can periodically pause to summarize mentally to make sure one understands what has been explained so far. One can connect the events and subject matter of the reading to personal experience in order to help understand and remember the main points of the reading. If allowed, one can write on the reading material, circling and underlining important points to remember and key phrases; or if they can't write on the reading itself, they can take notes on a separate sheet of paper. What is also important is practice. The more one reads outside of school and tutoring, the better one is able to comprehend future reading assignments.
What techniques would you use to be sure that a student understands the material?
The best way to do this is to ask questions about the material and have the students solve problems on their own. Sometimes a student may feel like they understand something or want to move on, but that does not necessarily mean that they understand the material fully. One has a pretty good grasp on the material when one is able to explain or teach a concept themselves.
How do you build a student's confidence in a subject?
Continual positive reinforcement is important to build confidence. When one has to correct mistakes, one should do so politely and constructively, rather than admonish a student. Additionally, pointing to a student's progress over time helps students realize how far they have come, and that they will continue making progress as they keep working.
How do you evaluate a student's needs?
Students may not always be forthcoming with their specific needs, so it is crucial to track their progress and monitor what specific subjects they may struggle with. Also, teachers may be asking for the work to be completed and graded in a specific way, when students may prefer working in another way. So it is important to help students understand what their teachers are asking for in order for them to perform well.
How do you adapt your tutoring to the student's needs?
One must take the time out to address areas of study and concepts that a student might have trouble with. Most classes are structured so concepts build on one another, so it is necessary to understand foundational concepts before moving forward. Doing so makes further concepts much easier to tackle. Also, one should provide the tools for students to practice and improve outside of tutoring so they can effectively study.
What types of materials do you typically use during a tutoring session?
In addition to the materials provided by the school, like worksheets, textbooks, and problem sets, it is important to supplement these materials with those available through technology. Depending upon the student's needs and the subject matter, one can find educational videos to explain particular concepts, problem sets for further practice, study guides that break down main points, and apps for better illustrating ideas. Other more traditional materials, like whiteboards and scratch paper, may also be useful for practicing additional problems in textbooks, and those found online or in other study materials.
---