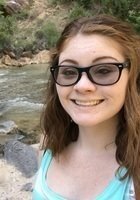 Reyanna
Certified Tutor
As an Integrated Educational Studies Minor and a tutor for the past three years, I love to teach and tutor students who may have trouble learning in a typical classroom environment. I really enjoy mathematics and have taken many math classes including Algebra, Geometry, Algebra 2, Pre-calculus, and Calculus at Chapman University.

As a high school student, I tutored Algebra I as well as Pre-calculus during my sophomore, junior, and senior years. My tutees succeeded in raising their grades in their mathematics classes, and felt more confident for their future classes. I am great at finding different ways to solve a problem. If my tutee doesn't understand one method I keep trying other methods until we find the one that fits. Using acronyms, songs, or interesting examples are how I get my students involved in the material and motivated to get their homework done.

Test prep is also something I have a lot of experience with. Especially with math classes, practice makes perfect, so it is important to study the types of problems over and over. I am extremely patient and respectful when it comes to tutoring, and will keep trying until my tutee understands the material. It's important to me to try to explain the ideas and concepts in the easiest way possible so that my tutee and I can have a successful session and meet our goals.

I enjoy going to the beach, hanging out with friends, reading, playing with animals, and volunteering. I am part of the honors program at Chapman University as well as a member of an honor society called The National Society of Leadership and Success. I also am a proud member of Wells for Wellbeing, a club that fundraises toward the purchase of water wells that are sent to Cambodia to supply clean water. One of my goals before I graduate is to take a trip with the club to Cambodia to see all of the water wells in action and learn more about the Cambodian people and culture. I have also joined a mentoring program beginning this fall where I will be helping students at Santa Ana High School with college and scholarship applications as well as being a friend and companion that they can come to if they have any questions.

Education & Certification
Undergraduate Degree: Chapman University - Bachelor of Science, Accounting and Business
Hobbies
Reading, playing with animals, and volunteering.
Tutoring Subjects
2nd Grade Math
3rd Grade Math
4th Grade Math
5th Grade Math
6th Grade Math
Business
College Accounting
College Business
Cost Accounting
Elementary School Math
High School Business
Managerial Accounting
---
What is your teaching philosophy?
I believe that the best way to tutor a student is to find out more about them and how they learn as an individual. Working together to figure out how to solve the problem is the key to tutoring successfully. Mathematics is a tough subject for some students, so I try my best to work through the problems with them enough that they can finally do them on their own. Mathematics is all about the process of solving the problem, so once a student can understand and apply that process, the problems become that much easier. I work with my tutee to identify the steps needed to solve the problem, and then practice with them until they can do it on their own.
What might you do in a typical first session with a student?
I would start off by introducing myself and finding out more about the student. I think the first session is the most important, because it allows me to learn how comfortable the student is with the subject, and what areas they could use some improvement in.
How can you help a student become an independent learner?
I like to teach my tutees the different techniques I use in school, whether it's acronyms to remember different processes or the ways to study for a test. This way they can start improving and learning the material better on their own.
If a student has difficulty learning a skill or concept, what would you do?
I would try to teach the idea in a different way to figure out which teaching method is best suited for them to understand.
What strategies have you found to be most successful when you start to work with a student?
Building a relationship with my tutee has always made the sessions go much more smoothly. Starting off each session with some conversation, or even a small game, makes my tutees feel more comfortable and ready to learn.
How would you help a student get excited/engaged with a subject that they are struggling in?
I would try to connect it to something they are interested in. Maybe use an interesting or fun example or make the equation into a song. For example, I learned a catchy song for the quadratic formula that really does help students remember it. Songs work extremely well, especially if the tune is from a song they already know.
What techniques would you use to be sure that a student understands the material?
I like to make sure that, by the end of the session, my tutee can solve the problems on their own. I usually start off the session by finding out what they know how to do from what they learned in class. From there I figure out what material my tutee is struggling with, and focus on those aspects. I walk them through a few examples and make sure we can do them together well. As we continue the session, I push my tutee to try to figure out each consecutive problem on their own before asking me for help. I believe that as long as I am there to guide them in the right direction, they will be solving the problems on their own in no time.
How do you build a student's confidence in a subject?
I believe that compliments and constructive criticism really motivate my tutees to continue working and feel more confident about their work.
---