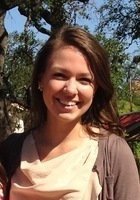 Kayla
Certified Tutor
I am a graduate of Creighton University and the University of Notre Dame having received my Bachelor of Science in Biology and a Masters in Secondary Education. Over the course of my career, I have enjoyed being able to teach and interweave Standardized Test preparation into a variety of classes in the science field: Physical Science, Biology, Ecology, and Zoology. I am truly passionate about the biological sciences as I enjoy building students' understanding of the cycles, processes, and intricacies of the study of life.
I have worked with junior high and high school students from a variety of English language backgrounds which drove me to pursue a TEFL Certificate and gain skills in improving content literacy. I very much enjoy bringing together literacy skills and data analysis practice to assist students in successfully approaching Standardized Test questions and expanding their critical thinking skills.
I firmly believe that all students are capable and deserving of experiencing growth in their desired subject with the right guidance and will to learn. Academic growth and confidence creates many opportunities and a lifetime of ongoing appreciation for phenomena in the world around us. In my time outside of teaching and tutoring I enjoy reading, yoga, running, exploring the outdoors, and appeasing my sweet tooth with new recipes.

Test Scores
ACT English: 30
ACT Math: 33
Hobbies
Reading, Yoga, Running, Hiking, Baking
Tutoring Subjects
ASPIRE Science
College Biology
Ecology
High School Biology
High School Chemistry
Life Sciences
Middle School Science
Physical Science