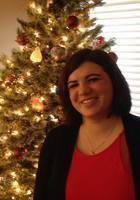 Alyssa
Certified Tutor
The only way to succeed in the future is to start learning the skills you need today. I have several years worth of experience with helping people learn the skills the need, and I want to help you or your child do the same.

I have my Bachelors degree in Anthropology and was on the Dean's List for much of the time I was in university. I am a high-achiever academically, personally, and professionally which means that I will do my best to help others to achieve as well. I believe in a friendly and encouraging approach without berating someone for not having certain knowledge, and I always incorporate humor and positive reinforcement to make the learning process enjoyable.

I have taken hundreds of exams including taking the SATs twice. I completed the International Baccalaureate Diploma Program which was strenuous and required a high level of commitment. I have very strong time management and study skills, and I hope to help you or your child by passing these on.

Personally, I am a fun-loving and goofy person who enjoys light-hearted approaches to life. I believe that school should be fun, and I hope to help make sure that learning is fun for everyone involved. However, I am down-to-earth and do not have any problem encouraging an intense "attack" of material when it is necessary.
Test Scores
SAT Verbal: 710
Hobbies
Writing and reading, hiking, being outdoors, loves children.
Tutoring Subjects
10th Grade Writing
11th Grade Writing
12th Grade Writing
1st Grade
1st Grade Reading
1st Grade Writing
2nd Grade
2nd Grade Reading
2nd Grade Writing
3rd Grade
3rd Grade Math
3rd Grade Reading
3rd Grade Science
3rd Grade Writing
4th Grade
4th Grade Math
4th Grade Reading
4th Grade Science
4th Grade Writing
5th Grade
5th Grade Reading
5th Grade Science
5th Grade Writing
6th Grade Math
6th Grade Reading
6th Grade Writing
7th Grade Reading
7th Grade Writing
8th Grade Reading
8th Grade Writing
AP French
AP French Language and Culture
College English
Conversational French
Elementary Algebra
Elementary School
Elementary School Math
Elementary School Reading
Elementary School Science
Elementary School Writing
Expository Writing
French 1
High School English
High School Writing
IB
IB Language B
IB Language B HL
IB Language B SL
IB Social and Cultural Anthropology
IB Social and Cultural Anthropology HL
IB Social and Cultural Anthropology SL
Middle School Reading
Middle School Writing
Other
Persuasive Writing
Social Sciences
The Modern World
Vocabulary