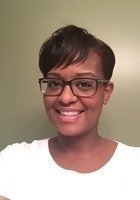 April
Certified Tutor
I obtained my Bachelor's of Technical Management - Accounting from Devry University and my Masters of Business Administration - Accounting from Keller Business School of Management. I have always been the type of person who sought to help others along the way. I am available to tutor Math subjects ranging from Middle Math through Algebra 2. I can also offer assistance with Business and Accounting College-level courses. I enjoy all of these subjects. I seek to use my academic and professional experience to help others excel and be successful in life. I believe that you have everything you need on the inside of you. If I can help you understand the basics of the work and you combine that with your knowledge and confidence, you will be successful. Outside of academia, I love to watch movies, relax to some nice music, and sing. I also enjoy spending time with friends and family. I believe it is necessary to be focused, but there is nothing wrong with having a little fun while you're doing it. I would hope that we can build a rapport so that you can feel open to letting me share a piece of your life in some way. I understand that the things you have going outside of this exercise affects your state of mind so let's talk so we can focus on the task at hand. Remember, when you have been blessed, you should always seek to be a blessing to someone else.
Hobbies
Spending time with friends and family, singing, watching movies
Tutoring Subjects
Business
College Accounting
College Business
High School Accounting
High School Business
---
What is your teaching philosophy?
I am a firm believer that most students have an idea of what needs to be done, but because everyone learns differently, they may need some coaching to get the concepts. I coach the student by asking questions that they would normally ask me in order to get them thinking. I can keep them on track by knowing the material and working through things together.
What might you do in a typical first session with a student?
I want to build rapport and get to know the student better, but I structure our first session based on how the student responds during our first meeting. If they are ready to get down to business, we can definitely do that. If they want to learn more about me, we can do that too!
How can you help a student become an independent learner?
I think providing real world examples is the best way to help a student become an independent learner. This means helping them relate the material to something that they can easily reference.
How would you help a student stay motivated?
Encouragement, Encouragement, Encouragement! Students don't want to feel dumb...even if that's the way they feel. Even if they get something wrong the first time, they shouldn't let that defeat them the second time. The only way we've all been successful is through failing and getting back up and trying again.
If a student has difficulty learning a skill or concept, what would you do?
Take a break from that and maybe try something else for a minute so that they don't beat themselves up for not catching on right way. This break could mean moving on to something else that may be a little easier to grasp or stepping outside to take a quick breath and then jumping back in with a renewed mindset.
What strategies have you found to be most successful when you start to work with a student?
Find out what is going to be the best use of your time and then stick to it! If you find that you are wasting time on something, don't get stuck there...move on until you find the better solution. Be flexible.
How would you help a student get excited/engaged with a subject that they are struggling in?
Be willing to share your own personal struggles of when you were learning the concepts so that they feel like you understand where they are. If they feel like you struggled too, but then accomplished it, they feel like they can do the same.
What techniques would you use to be sure that a student understands the material?
I would ask them to walk me through how they obtained the answer, or maybe, I'd try a completely new question that they haven't had a chance to see yet to make sure they can solve it.
How do you build a student's confidence in a subject?
Be encouraging and when they do well, tell them that they did well and that you're proud of them!
How do you evaluate a student's needs?
ASK! The best person to tell you what they struggle with is the student themselves. This is especially true for someone who is self-aware. If they are not, give them some examples and continue to ask questions until you can determine what they need.
How do you adapt your tutoring to the student's needs?
Be flexible and willing to change based on the changing needs of the student.
What types of materials do you typically use during a tutoring session?
The student's textbook, workbook, paper, pencil, computer, and any other resource that is made available from the student's school.
How do you help students who are struggling with reading comprehension?
Have them reread and then ask them to tell me in their own words what they understand.
---