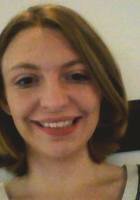 Jennifer
Certified Tutor
Hi all! I graduated with my bachelor's in History and a minor in Economics in 2015, then went on to complete two master's degrees (an M.A in History at the University of Pittsburgh and a Master's of Education from Slippery Rock University). I am currently a middle school Social Studies teacher, but have worked with Varsity students for the past four years on SAT/ ACT preparation, as well as on high school and collegiate courses in English, writing, and history. I have worked with over 300 students thus far, and I look forward to meeting the needs of students in both online and in-person tutoring sessions!
Jennifer's Qualifications
Test Scores
SAT COMPOSITE (2400 SCALE): 2190
SAT COMPOSITE (1600 SCALE): 2190
SAT Math: 700
SAT Verbal: 720
SAT Writing: 770
GRE Verbal: 166
Hobbies
In my free time, I enjoy baking, gardening, and hiking with my precocious basset hound.
Tutoring Subjects
10th Grade Reading
10th Grade Writing
11th Grade Reading
11th Grade Writing
12th Grade Reading
12th Grade Writing
1st Grade
1st Grade Math
1st Grade Reading
1st Grade Writing
2nd Grade
2nd Grade Math
2nd Grade Reading
2nd Grade Writing
3rd Grade
3rd Grade Math
3rd Grade Reading
3rd Grade Writing
4th Grade
4th Grade Math
4th Grade Reading
4th Grade Writing
5th Grade
5th Grade Math
5th Grade Reading
5th Grade Writing
6th Grade
6th Grade Math
6th Grade Reading
6th Grade Writing
7th Grade
7th Grade Reading
7th Grade Writing
8th Grade Reading
8th Grade Writing
9th Grade Reading
9th Grade Writing
Adult Literacy
AP US Government
AP US History
Business
College Business
College Economics
College English
College Level American History
College World History
Elementary School
Elementary School Math
Elementary School Reading
Elementary School Writing
High School Business
High School Economics
High School English
High School Level American History
High School World History
High School Writing
Macroeconomics
Middle School
Middle School Reading
Middle School Writing
Other
Persuasive Writing
Spanish 1
Study Skills
Study Skills and Organization
Summer
US History
---