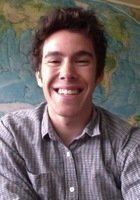 David
Certified Tutor
I am a recent graduate of the University of Oregon Marine Biology Institute and spent a year living in Spanish-speaking countries while pursuing my undergraduate degree. I have tutored everyone from ESL students in the Galapagos Islands to Biology majors in Eugene, Oregon, but the subjects about which I am most passionate are Math, the Life Sciences, Spanish, and SAT/GRE test prep.

I know the chaos that can be wreaked by standardized tests, and I believe that I have developed the tools to make them manageable. My educational philosophy revolves around the connection that exists, waiting to be found, between each student and the subject with which they are struggling. I believe that every student is unique and that by connecting seemingly farfetched or intimidating educational topics to something in the student's everyday life, a tutor can help that student thrive.

When I am not involved in academia, one can find me playing with my band, backpacking on the Olympic Peninsula, or reading a good book in a warm corner of a coffee shop.
Education & Certification
Undergraduate Degree: University of Oregon - Bachelor of Science, Marine Biology
Test Scores
SAT COMPOSITE (2400 SCALE): 2250
SAT COMPOSITE (1600 SCALE): 2250
SAT Math: 710
SAT Verbal: 770
SAT Writing: 770
GRE Verbal: 167
GRE Quantitative Reasoning: 170
Hobbies
Enjoys music, currently in a band that tours. also enjoys outdoor activities: trail running, backpacking, and snowboarding. Also likes science!
Tutoring Subjects
10th Grade Math
10th Grade Reading
10th Grade Writing
11th Grade Math
11th Grade Reading
11th Grade Writing
12th Grade Math
12th Grade Reading
12th Grade Writing
7th Grade Science
8th Grade Science
9th Grade Math
9th Grade Reading
9th Grade Writing
Adult Literacy
American Literature
AP Spanish Literature and Culture
AP US Government
AP US History
Cell Biology
College Biology
College Chemistry
College English
College Level American Literature
College Physics
College World History
Comparative Literature
Conversational Spanish
Developmental Algebra
Drum and Percussion
Ecology
Elementary Algebra
Evolution
Evolutionary Biology
General Biology
General Chemistry
High School Biology
High School Chemistry
High School English
High School Level American Literature
High School Physics
High School World History
High School Writing
History of Science
IB Geography
Intermediate Algebra
College Math
Latin America History
Life Sciences
Marine Biology
Middle School Science
Molecular Biology
Music
PCAT Biology
Persuasive Writing
Probability
Quantitative Reasoning
SAT Subject Test in Spanish with Listening
SAT Subject Test in World History
SAT Subject Tests Prep
Spanish 1
US History
Vocabulary
Zoology
---
What is your teaching philosophy?
I believe that each student has a slightly different pathway that they use to access and expand upon the information in a given subject. My teaching philosophy revolves around finding that unique connection and using it to elucidate difficult topics.
What might you do in a typical first session with a student?
In a first session, I generally start by moving across a broad spectrum of topics (usually in the form of practice problems), allowing my student and I to find strengths and weaknesses, and generating questions on the topic organically.
How can you help a student become an independent learner?
The worse thing a tutor can do is solve a problem for a student. I try, even when explaining the correct approach to a topic, to continually ask for the supporting information from my student, developing his or her own framework for the subject.
How would you help a student stay motivated?
At the end of each tutoring session, I like to focus on the small wins from that session, and then connect them to the larger picture, showing how far the student has come. Providing graspable milestones has, in my experience, made it much easier to keep moving through the material.
If a student has difficulty learning a skill or concept, what would you do?
I believe that if a teaching strategy isn't working, there is no point in continuing it. If a student is struggling, I cycle through different approaches to the concept until one of them connects, and then move forward accordingly.
How do you help students who are struggling with reading comprehension?
I tell my students to read over the questions following the reading passage and identify their aims in order to read the material in a more focused manner.
What strategies have you found to be most successful when you start to work with a student?
When starting to tutor a new student, I find it imperative to intersperse material instruction with discussion about his or her daily life. This allows us to connect future concepts with which the student might be struggling to information that is approachable.
How would you help a student get excited/engaged with a subject that they are struggling in?
I would use connections to familiar topics in his or her life in order to make a seemingly drab topic a bit more engaging.
---