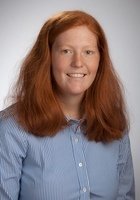 Madeline
Certified Tutor
I graduated from Brown University in May of 2014 with a degree in History. My focus was on Latin American history, though I also put a strong emphasis on American history and am interested in how the two intersect. I also developed a special interest in Cuban history when I studied abroad for one semester in Havana during the fall of my Junior year. I am an avid reader and enjoy many different kinds of books, from English literature, to the Latin American magical realism, to fantasy series, and I love to share my passion for books with others.

I enjoy working with and teaching kids. During high school I volunteered as a mentor with a special needs hockey team, teaching children with special needs how to skate and stick handle. In college I volunteered at a public elementary school in Providence and helped run an after school social studies class for kids K-2.

My non-academic interests include rock climbing, hockey, hiking, skiing, mountain biking, and pretty much all things outdoors.
Madeline's Qualifications
Education & Certification
Undergraduate Degree: Brown University - Bachelor in Arts, History
Test Scores
SAT Composite (1600 scale): 1550
SAT Math: 740
SAT Verbal: 790
SAT Writing: 740
Hobbies
rock climbing, reading, hockey, mountain biking, music
Tutoring Subjects
AP US History
College English
College Level American History
Comparative Literature
High School English
High School Level American History
---