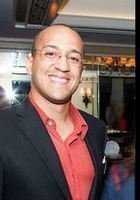 Isaac
Certified Tutor
All of us will be called upon in our lives to do great things. A calling, in our families, in our friendships, and in our professional lives. As we are today, can we truly achieve all that we are capable of? We all have goals, ones that we sometimes don't dare to say aloud. Tutoring can help us make the most out of the steps along the way to those goals. Let's work together to become better students, leaders, workers, friends, parents, siblings, children, and people. Be it at work, at home or at play, we all can improve. Let us challenge ourselves to never have a maximum potential in any area of our lives.

As a teacher & tutor for over ten years, in and outside the classroom; As a Leadership & Self-Development professional; And as a human, just like you, who has lived & traveled around the world, worked in a variety of industries, and studies himself to always be better, I am confident that I can help you in my areas of specialty:

AP Japanese Language and Culture, ESL/ELL, Japanese, Public Speaking, Reading, Summer Tutoring, Anthropology, IB Social and Cultural Anthropology HL, IB Social and Cultural Anthropology SL, and Philosophy.

Currently, I am working on Speed Reading & Memory Enhancement. I am also delving deeper into my pre-research for my Phd. Dual J.D. Program, so as to most efficiently attain the post graduate degrees which will assist in my ultimate goals. So, just like you, I am a learner -- and will be one for the rest of my life.

So, to all those who took the time to read my personal statement, I thank you and hope to hear from you soon! But even if I never do, I wish you the best of days ahead -- ones far better than the days past, but never better than your last!
Education & Certification
Undergraduate Degree: Temple University - Bachelor in Arts, Anthropology & Asian Studies, Language Cert. in Japanese & Chinese
Hobbies
Cosplay, Reading, Writing, Extreme Travel, Ultra Running, Anime, Manga, Leadership, Snowboarding, Equestrian, Reformation of Knowledge Acquisition & Application Worldwide
What is your teaching philosophy?
People are limitless. It is only in accepting limits that we truly stop ourselves from becoming all of who we truly can be.