100% Tutor Satisfaction Guarantee
At Varsity Tutors, we're committed to connecting you to top tutors capable of delivering an outstanding experience. That's why we provide a 100% tutor satisfaction guarantee.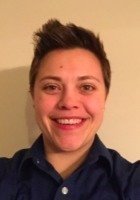 Tara: Pineville tutor
Certified Tutor in Pineville, NC
...Chemistry. Since I just graduated, I'm still familiar with college level classes and their content. While in graduate school, I taught general chemistry labs, advanced analytical labs and worked in the tutoring center where students could come in to get free help. Along with the classes I taught, I also tutored students outside of the...
Tutoring Subjects
College Chemistry
Analytical Chemistry
AP Chemistry
Chemistry
+1 subjects
Stuart: Pineville tutor
Certified Tutor in Pineville, NC
...and adults for several years. I know how important good study skills are and I try to convey some good tips on how to study and master the material. I have helped students raise their grades and I try to motivate them to excel and do their best in school. There is no substitute for...
Tutoring Subjects
Other
Trigonometry
Pre-Algebra
Nutrition
+18 subjects