Private In-Home and Online Pre-Calculus Tutoring in Syracuse, NY
Receive personally tailored Pre-Calculus lessons from exceptional tutors in a one-on-one setting. We help you connect with in-home and online tutoring that offers flexible scheduling and your choice of locations.
100% Tutor Satisfaction Guarantee
At Varsity Tutors, we're committed to connecting you to top tutors capable of delivering an outstanding experience. That's why we provide a 100% tutor satisfaction guarantee.
How can Pre-Calculus tutoring help you succeed?
Precalculus is typically the last class in the math sequence before a student starts calculus. The class usually starts as a cumulative review, before building on things you have learned in algebra, geometry, or trigonometry. Because of this, it is extremely important to try to help you have no information gaps from your previous mathematics classes. In addition to covering old material, you could learn a vast quantity of new material, including Euclidean vectors, rotation matrix, inverses, and other more advanced topics. An expert precalculus tutor in Syracuse, NY, may help you work towards meeting your studying goals, ensuring your success in the course.

Students seeking precalculus tutoring in Syracuse may get help locating an independent tutor from the Varsity Tutors educational directors. Our directors may take into account your preferred learning style, personality, schedule, and points of concern when pairing you with the perfect tutor for your needs. Once you have been paired, your tutor may run a series of brief diagnostic tests to aid in assessing where you rest in your understanding of the material. Once the tutor has a basis of where you are, he or she may create an individualized learning plan. This assures that you may never have to struggle to maintain the pace of another person; with a tutor, you may spend as much time you need on topics you really struggle with, while barely skimming the information you completely understand. This allows you to catch up if you are struggling or get ahead of other students and really excel. This may also increase self esteem and confidence in the classroom, which makes precalculus less stressful and perhaps even more fun.
Affordable Private 1-on-1 Tutoring by top SU Grads. 4.9/5.0 Satisfaction Rating*
Session Summaries by Pre-Calculus Tutors
"The student and I reviewed the conics section on parabolic functions. We graphed parabolas given either the vertex, the focus, or other information. After working on the homework, the student understood how to set up the problems, how to find the vertex and orientation, and how to graph the functions. "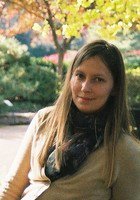 "The student and I continued to look at trig function identities. We worked off problems from the book that were part of a homework assignment. We continued to focus on solving quadratic trig equations and when to apply which strategy. We also looked at when to apply half angle vs. double angle identities and when substitution can be used instead. We had a few difficulties with product-to-sum and sum-to-product identities, but practiced (and discussed strategies) for a number of problems. The student should continue to practice, especially this category of problems."
"This session the student and I spent the session preparing for an upcoming quiz and going over old problems from her last test. She had the most difficulty solving questions involving complex inverse trig functions. Because this section was still a review from last semester, she only needed a quick reminder on how to approach the problems and she was able to complete most of them on her own. Next session I will be bringing a practice quiz to help her prep for her test. "