Private In-Home and Online ACT Tutoring in Syracuse, NY
Receive personally tailored ACT lessons from exceptional tutors in a one-on-one setting. We help you connect with in-home and online tutoring that offers flexible scheduling and your choice of locations.
Get results. Guaranteed.
We're proud of our students and the improved scores they've achieved. We believe your student can do the same. That's why we promise to help them get a better score or we'll give you your money back.*
How can a tutor help you master the ACT?
The American College Testing (ACT) exam plays a role in the admissions process at many colleges and universities. Thus, it is very beneficial for you to perform well on it. The exam takes three and a half hours to complete and is made up of five sections. These include writing, science, reading, math, and English. The writing section includes an optional essay. While this section is not scored, it does get sent to any college that you are applying to. This means that it is still a very good idea to do your best on your essay. The science section includes problem solving, reasoning, evaluation, analysis, and interpretation. The reading section examines your reading comprehension ability. The math section involves topics such as trigonometry, plane geometry, coordinate geometry, algebra, and pre-algebra. Finally, the English section focuses on style, organization, sentence structure, punctuation, and grammar and usage. With the amount of material that is covered on this exam, it may be difficult to feel prepared enough. If you are feeling stressed about your upcoming ACT, you should connect with a private tutor. For assistance in connecting with an experienced ACT tutor in Syracuse, contact Varsity Tutors.

All of the tutors whom our educational directors may connect you with in Syracuse are skilled in teaching students for the ACT. They have the necessary experience to try to help you develop a plan to make the most out of your study sessions. They may assist you in maximizing your strengths while minimizing your weaknesses. They may also give you the time and attention that is needed to fully prepare for the ACT.
Affordable Private 1-on-1 Tutoring by top SU Grads. 4.9/5.0 Satisfaction Rating*
Session Summaries by ACT Tutors
"The student received her most recent test score. She showed improvement in every subject except Science, and overall went up 1 point. We worked on every section except Math. We completed 3 Science passages. She realizes that she needs to read more carefully and not worry about time. She completes the passages on time, but when she worries then she rushes and misses key words. She feels confident about Reading, as it is her best scoring subject. Since it is the only time we will review Reading, I gave her a difficult passage to complete. I gave her pointers on how to eliminate answers quicker and explained to her that she should be precise in picking her answers. She should be paying attention to each word used in the questions and answer choices to see how they align with those in the text. On English she did very well, only missing 1 out of 15; she seems to really have grasped the information we have been covering. I provided her with a practice ACT test to complete. She should finish the test before we meet for our final session. "
"We focused on science today. He got a 20 on the science section that he did for practice this week, a 5 point improvement over where he started. We worked intensively on this section to look at patterns of questions and come up with a strategy to maximize his time getting right answers on the ones he's spending time doing. I'm thrilled with his progress and looking forward to seeing how he does on the test. His homework for me this week is to complete a full test under timed conditions and to bring me his work so I can score it. "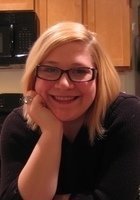 "Today the student and I worked on the English, science and math sections of the ACT. He is getting much better with his grammar and his understanding of grammatical concepts. The science section also went well. However, he is still struggling with understanding the concepts of math problems and how to solve them on his own. I am hoping that he will soon understand what strategies he needs to use when dealing with a math problem. We have just been focusing on getting questions correct and not worrying about the time limits of each section. Soon we will focus on getting as many questions as possible correct in a certain amount of time. I feel that he is in a much better place than he was when we first started working together. "