Private In-Home and Online ACT Tutoring in St. Louis, MO
Receive personally tailored ACT lessons from exceptional tutors in a one-on-one setting. We help you connect with in-home and online tutoring that offers flexible scheduling and your choice of locations.
Get results. Guaranteed.
We're proud of our students and the improved scores they've achieved. We believe your student can do the same. That's why we promise to help them get a better score or we'll give you your money back.*
How can a tutor help you master the ACT?
If you are beginning to think about college applications, then you may also need to begin preparing for the American College Testing exam, more commonly known as the ACT. This exam is utilized by many colleges in the admissions process. Your score on the exam can directly affect your chances for acceptance to certain colleges; therefore, you will want to be as prepared as possible for it. Varsity Tutors can assist you in finding an experienced and dedicated ACT tutor in St. Louis, Missouri, who can help you prepare for the exam at a time and place that is convenient for you. You can meet with your tutor online or in person, and you can cover any section on the exam (reading, English, math, science, and writing) you desire.

St. Louis ACT tutors can provide you with benefits that you would not otherwise get from studying alone with a prep book, joining a study group, or signing up for a test prep course. Your tutor can meet with you one-on-one to help you organize all the information and resources you have at your disposal for test preparation. You can also take a diagnostic exam with your tutor to help determine which section or sections you need to focus your time on. From there, they can design a study plan that has been tailored to your unique studying needs. Your tutor can also act as your very own test scorer, going over practice exams with you and explaining why certain answers you selected were incorrect. An answer key can show you that you chose the wrong answer, but a private tutor can walk you through the concept until you understand where you went wrong. This is especially useful for the writing section, as it would be difficult to score your own essay.
Personalized 1-on-1 home tutoring by top WashU grads! 4.9/5.0 Satisfaction Rating*
Session Summaries by ACT Tutors
"The student and I went over every section he would see on the ACT. We focused specifically on math because this was the section where he had the most room for improvement from his last test. He said that he still found the math challenging, but hopefully, after reviewing the list of formulae that he had compiled, he would be able to memorize those and apply them to the test. He has improved greatly in English, which was another area which he struggled with when we were preparing last time. I think that the student is very well prepared and I have high hopes for him on this test! He was a pleasure to work with."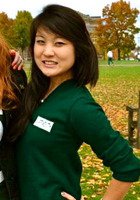 "Today was the student's first session. We began by going over her past scores and discussing her goals for the September exam. She did extremely well on the English portion and would like to increase her math score. Because she has a strong English score, I am confident she possesses the aptitude needed to get her math score above 30. We then began working some problems so that I could get a feel for where her strengths and weaknesses lay. The student has an excellent understanding of the basic algebraic rules, but occasionally gets confused with words problems where basic concepts are veiled behind verbose language. This can easily be corrected with practice and learned strategies. We will be meeting again on Monday, June 17. I look forward to working with her this summer!"
"Today, the student and I reviewed the timed English problems he had done for homework and went through a social science passage from the reading passages section. For Thursday, he is working half of a mathematics section, which we will discuss together."