Private In-Home and Online MCAT Tutoring in Salt Lake City, UT
Receive personally tailored MCAT lessons from exceptional tutors in a one-on-one setting. We help you connect with in-home and online tutoring that offers flexible scheduling and your choice of locations.
Get results. Guaranteed.
We're proud of our students and the improved scores they've achieved. We believe your student can do the same. That's why we promise to help them get a better score or we'll give you your money back.*
How can a MCAT tutor help you?
If you are planning to enter medical school, you are probably preparing for the MCAT (Medical College Admission Test). Practicing to take the MCAT is difficult and stressful for most students. If you find that you are having trouble studying for the MCAT, a tutor may try to help you prepare. Contact Varsity Tutors' educational directors for help connecting with MCAT tutors near Salt Lake City, UT.

The MCAT is a computer-based standardized test that is required to enter medical school. The test is given in four sections, and the total duration of the test is approximately seven and a half hours. The four sections of the test are biological and biochemical foundations of living systems; chemical and physical foundations of biological systems; psychological, social, and biological foundations of behavior; and critical analysis and reasoning skills. Work towards building confidence for exam day with the assistance of an expert MCAT tutor in Salt Lake City to try to help you prepare.
Affordable 1-on-1 Tutoring by top BYU Students. 4.9/5.0 Satisfaction Rating*
Session Summaries by MCAT Tutors
"We went over the CARS section of her last practice exam as well as several physical sciences passages that concerned pendulums, SHM, phase changes and phase diagrams, purifications and separations, and acids and bases. Overall, I thought that she did generally well in the CARS section though with some easily rectifiable mistakes that she made in her first attempt at the test. I came away not being concerned about her future performance in verbal, but rather knowing that she could just use a bit more practice to improve her performance rather than any major study. In terms of the physical science passages, she also did generally well and there was no major concerns regarding her content knowledge or the way that she answered questions. Just as in the verbal section, she could only use a few minor tweaks with some more practice."
"Today the student and I worked on several practice sections she had completed for homework. We went over some topics that were giving her trouble, and also some general strategies to approach algebraic math problems. We focused on how she can simplify quantitative comparison problems by performing algebra first, and then potentially picking numbers for the simplified quantities. Some other topics we covered included ratios, rates and some select geometry topics. We talked about the issue essay for the last quarter of the session and how she should approach writing it."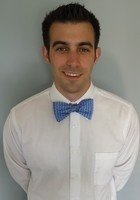 "Today, the student and I took a break from math review and focused instead on the verbal portion of the GRE test. We looked more closely at two different types of questions that will appear on that portion of the exam - sentence equivalence questions and text completion questions. We walked through a handful of examples of each, and discussed how to find context clues in the questions that can tip you off to what the correct answer needs to be similar to, as well as other strategies for eliminating wrong answers. She did really well on all of the questions, and only stumbled on a few due to unknown vocabulary. We talked through some strategies on how best to increase vocab skills, and she is going to continue practicing on her own."