Private In-Home and Online Geometry Tutoring in Salt Lake City, UT
Receive personally tailored Geometry lessons from exceptional tutors in a one-on-one setting. We help you connect with in-home and online tutoring that offers flexible scheduling and your choice of locations.
100% Tutor Satisfaction Guarantee
At Varsity Tutors, we're committed to connecting you to top tutors capable of delivering an outstanding experience. That's why we provide a 100% tutor satisfaction guarantee.
How can Geometry tutoring help you succeed?
Geometry is the study of the properties and relationships of points, lines, angles, and figures. The subject has been used since the ancient Egyptians used it in the construction of the pyramids around approximately 2900 B.C. It is the basis for more advanced mathematics such as trigonometry, algebra, and calculus. Additionally, basic geometric concepts are also widely used in everyday life. Geometry is needed to do things such as determining how much carpet you need to buy for a room, how many square feet are in your home, or the water capacity of the new pool in your backyard. Many vocations depend heavily on a solid understanding of geometry, such as architecture, engineering, landscape design, and countless other professions. A tutor may be useful to work towards the goal of success in your coursework. Varsity Tutors may find you a private geometry tutor in Salt Lake City, UT, who is extremely flexible and may work with your schedule.

Our educational directors may help you locate an independent tutor in Salt Lake City who is skilled at helping students prepare for geometry. Tutoring may be extremely valuable in guaranteeing your success. Tutoring allows for instruction catered to your strengths and weakness, immediate feedback when working on a problem, and the ability to accommodate your personal learning style. After one of our expert educational directors evaluates your problem areas and learning needs, you may be matched with a tutor. Whether you need help with determining the area and perimeter of polygons, measuring segments, or finding angles in shapes, your tutor may create a plan that focuses on the concepts that have presented you with the greatest challenge.
Affordable 1-on-1 Tutoring by top BYU Students. 4.9/5.0 Satisfaction Rating*
Session Summaries by Geometry Tutors
"The student worked through most of Module 5 on his own over the course of winter break. We worked on the Module 5 activities where he had to create a scaled down version of an object. We made a scale model of his couch using just construction paper. We also drew the model of a room in his house that we had to scale down to fit on a brochure. "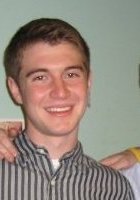 "Today we continued the topic of quadrilaterals including trapezoids. We solved algebraic equations for various components of geometric figures and provided proofs for others. The session mainly consisted of working through a course assignment with supplementary information as needed. "
"A good session, we focused on formal geometry/Cartesian proofs, both the two column and the equation format for proofs. Once the problems got set up, student had no problems with the proving aspect of the problem, it was figuring out what the question was that was stumping him. We figured that out with the handy trick of looking for triangles everywhere. Student had a quiz today which we will go over next week"