Private In-Home and Online Mandarin Chinese Tutoring in Richmond, VA
Receive personally tailored Mandarin Chinese lessons from exceptional tutors in a one-on-one setting. We help you connect with in-home and online tutoring that offers flexible scheduling and your choice of locations.
100% Tutor Satisfaction Guarantee
At Varsity Tutors, we're committed to connecting you to top tutors capable of delivering an outstanding experience. That's why we provide a 100% tutor satisfaction guarantee.
How can Mandarin Chinese tutoring help you succeed?
If you or your student are in need of a Chinese tutor in Richmond, Varsity Tutors can get you connected. Your student might just be getting started with Mandarin Chinese at the high school level and needs support. You might have recently enrolled in a course at the University of Richmond. Maybe you're aiming to improve your relationship with international partners or just hoping to make friends along the way during international travels. Regardless of your reasoning, if your goal is to improve your Chinese language skills, partnering with a Richmond Chinese tutor can be a smart choice.
What are the benefits of finding a Richmond Chinese tutor near me?
There are a number of advantages to working with Richmond Chinese tutors, chief among them being that you get access to an expert on the language. Learning Chinese is a different kind of challenge from deciding to learn a romance language. You're not just studying vocabulary on flashcards or even studying a new alphabet. In fact, Chinese doesn't have an alphabet. It is the only modern pictographic language. Students approaching the task of reading and writing the language for the first time might be surprised to learn it features more than 50,000 symbols. Fortunately, only 20,000 of those are currently in use, and of those, you really only encounter 2,500 with any regularity. That doesn't make it any simpler to master. Those symbols aren't letters; they represent syllables and were often derived from ancient drawings intended to represent specific items. To translate them to something approaching an approximation of English phonetics today, you have to learn and apply a system called Pinyin.
This is where Richmond Chinese tutors can be incredibly helpful. They're deeply familiar with the intricacies of the language and can develop a lesson plan that establishes a strong foundational knowledge of the written language before building out more practical lessons and expanding from there. They can answer questions and issue clarifications, helping to explain points of confusion using different approaches until you understand the issue. This type of one-on-one attention can be difficult to find in a classroom.
It's this sort of individual instruction that is distinctly important when it comes to the most difficult part of learning any language, but especially Chinese: speaking it. One of the most frustrating parts of learning Chinese is that the written language has absolutely nothing to do with how it's spoken. There are no accents or phonetic guides. Without verbal instruction or modeling, you'd have no idea how a word was pronounced. The second major hurdle to learning how to speak it is that Chinese is what's known as a tonal language. This means that the meaning of a word shifts according to how it's pronounced, and even that can vary based on dialect. Within the Chinese language, there are seven primary dialects, the most prominent being Mandarin. Within Mandarin, there are four distinct tones, but in the other six, there can be as many as nine. If you pronounce a word with the wrong combination of tones and inflections, there could be unintended consequences. This makes learning to speak the language properly absolutely crucial.
To this end, Richmond Chinese tutoring can be invaluable. Your online Richmond Chinese tutor, using the video chat function on the Live Learning Platform, can engage in conversation with you directly and correct you in real-time, detecting the slightest mispronunciations and helping you to cultivate those subtle tonalities necessary to effectively communicate in the selected dialect you're hoping to learn. These sessions also provide an opportunity for you to train your ear to translate conversational Chinese on the fly, which often takes place at a much quicker pace than what you're used to hearing from a teacher. The platform records your sessions, too, giving you the chance to review a prior meeting at a later date and practice the lessons again at your own convenience. This sort of instruction makes working with Richmond Chinese tutors incredibly helpful, especially for students preparing for higher-level courses where professors tend to lecture in Chinese.
Another significant benefit of Richmond Chinese tutoring is that it revolves around your needs as a student entirely, from scheduling to the environment it takes place in to the pace of instruction. To ensure you get the opportunity to study when it's convenient for you, we will find a tutor who can meet when you have availability. In working with a Richmond Chinese tutor, you get to choose where you study, be that the Libbie Mill Library or the comfort of your own couch. The lesson plans can also be tailored to your specific needs. If you're struggling on a specific topic, your Richmond Chinese tutor can rearrange the lesson plans to dedicate as much time as is necessary to make sure you've established thorough comprehension before moving on to the next unit. It's all about setting you up for success.
How can I find a Richmond Chinese tutor near me?
It's a lot easier than you think. Varsity Tutors can connect you with high-quality Richmond Chinese tutoring in the area in as little as 24 hours. It doesn't matter if you're a parent looking for options for your student, a student yourself, a professional hoping to gain an edge, or a traveler preparing for a journey. There are online and in-person options to fit anyone's needs. If you'd like to support this instruction with an online course, we offer live courses that allow you to learn from the best instructors available in a virtual classroom with other students who are looking to reach for their language learning goals as well. Multiple sections of these classes are running at any given time, so we make it easier for you to sign up for a course that meets when you have time to study. Our educational consultants are standing by to tell you more about the available class and tutoring options we can set you up to attend. There's no reason to wait. Contact Varsity Tutors today!
Session Summaries by Mandarin Chinese Tutors
"Today we focused a lot on Chinese pronunciation and tone markings. During our last session I found that the student was struggling with tone markings, so we were able to use online resources to practice. We also worked on listening and translating. With more practice, I believe the student will be prepared for the next level."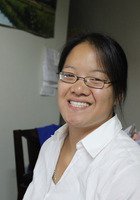 "The student had to write a short history about her friendship in Chinese, so, after she had written the history in English, I guided her to translate into Chinese, corrected her sentence structure and grammar. So, by the end of the session, she had finished writing her friendship history in Chinese, with my proofread."
"The student worked on his workbook for homework and studied for his dictation test. So many words in Chinese sound the same and we're trying new ideas to help him with remembering, hearing, and producing correct tones. His handwriting continues to look great and his ability to understand and answer questions has improved."