Private In-Home and Online ACT Tutoring in Richmond, VA
Receive personally tailored ACT lessons from exceptional tutors in a one-on-one setting. We help you connect with in-home and online tutoring that offers flexible scheduling and your choice of locations.
Get results. Guaranteed.
We're proud of our students and the improved scores they've achieved. We believe your student can do the same. That's why we promise to help them get a better score or we'll give you your money back.*
How can a tutor help you master the ACT?
The ACT may be one of the most important exams in your high school career. Not only is it important in college admissions, choosing between you and another student with the same qualifications, but also it is important in applying to merit-based aid and scholarships. The exam covers four topics: mathematics, reading, English, and science. In addition, there is a timed essay section that is optional but required by many colleges. The topics covered are extremely diverse, covering everything from basic grammar to trigonometry. Problems also cover analysis and interpretation of graphs, and an extensive amount on reading comprehension. Because of the diversity of topics, many students struggle with at least one topic.

Varsity Tutors may help by putting you into contact with the best ACT tutors in Richmond, VA. When you first call our educational directors, they may try to get to know you better in order to find the perfect tutor in Richmond for your needs. You may likely be asked a number of questions, focused on what topics you struggle with the most and how you learn the best. If you struggle with the math section the most and breeze through reading, we may place you with a tutor who specializes in the mathematical portion of the exam. If you are great at math but have trouble picking out the best grammatical choices for the English section, we may find you a tutor who specializes in helping students like you. All of the tutors we find you may be able to teach based on your preferred learning style, meaning they are able to explain questions in whatever way works best for you.
Personalized 1-on-1 home tutoring by top UR and UVA grads! 4.9/5.0 Satisfaction Rating*
Session Summaries by ACT Tutors
"The student and I went through the whole test and we saw that he did very well. He scored a 34 in Reading comprehension and was under time. In the other sections, he scored very well (31 Science, 33 Math, and 31 English). We went through strategies about how to complete the science section and math section under time because he was so over in those sections. He has timed sections for homework to practice the new strategies."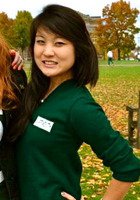 "With this being our last session. I wanted to work with the student in all different areas of the test. We started with having him do a timed 30-minute essay. His essay demonstrated some grasp of the material, and we talked about ways to make his points clearer and clean up his writing in order to get a higher score. We reviewed the Reading strategies we talked about last time and worked through a few passages using those strategies and answering questions. The student did very well in the English sections. Because time is a concern for the student, I gave him several strategies to maximize the time allotted for each section. Overall, I think the student is prepared strategy-wise for the test, but I know the timing will be a struggle. "
"The student and I spent our last session doing some last minute prep on the sections he needs work in. We worked more on reading and science and talked about time management strategies for both. For homework, I suggested the student do one full length test every night, except the night before the test, on which he should make sure to get plenty of rest. He needs to be familiar with exactly what doing each section in the proper amount of time feels like and also get acclimated to the mental fatigue he is sure to experience by the end of a full length test."