Differential Equations Tutoring
Private In-Home and Online Differential Equations Tutoring in Renton, WA
Receive personally tailored Differential Equations lessons from exceptional tutors in a one-on-one setting. We help you connect with in-home and online tutoring that offers flexible scheduling and your choice of locations.
100% Tutor Satisfaction Guarantee
At Varsity Tutors, we're committed to connecting you to top tutors capable of delivering an outstanding experience. That's why we provide a 100% tutor satisfaction guarantee.
Session Summaries by Differential Equations Tutors
"We started this session by answering questions about the assignment I gave the weekend prior. We explained that all kinds of functions can have inverses, but they only involve logarithms if you're talking about an exponential function. Then we reviewed some more trig, and we revisited some more past topics in both geometry and algebra II. I had planned an assignment involving transformations of functions, but since he is currently working on transformations of polygons in geometry, I figured it could wait. I assigned him some practice with complex numbers and trig overnight. He did very well through the whole session."
"The student wanted to complete his homework assignment with me. It focused on simplifying and solving fractions with multiple variables and/or polynomials. The assignment required him to draw on his knowledge of factoring, distributing, completing the square, and special cube factoring rules. When he was able to maintain his focus, he did very well. After we finished the homework, we moved on to a little chemistry. He has an exam that he is finishing tomorrow on gas laws. It covers the combined gas law, ideal gas law, partial pressures, densities, and molar mass. He had a few questions on how to set up the equations dealing with certain dimensional analysis, but once we did a couple, he seemed fine."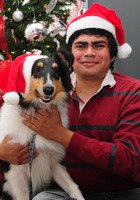 "We reviewed Chapter 5 with her final HW assignment and going over past homework assignments. She seems to have just been completing her homework, but not really learning the material. We were able to get more concepts into her repertoire (e.g., differentiation and integration of exponential functions, inverse trig functions), but she needs more practice to really master the material. This practice needs to come independently, before our next meeting (Thursday, 3/20) so we can continue reviewing the other concepts of the chapter (more trig functions, logarithmic functions). She also needs to slow down and take her time (and write out each step) when solving problems, because her small errors are hindering her ability to get the correct answers. "