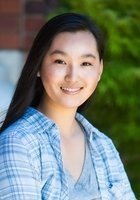 Cindy: Boston Physics tutor
Certified Physics Tutor in Boston, MA
Hi, I'm Cindy! I'm a freshman at Harvard University and graduated from San Mateo High School this past year. I love to teach and have years tutoring students of all ages in a variety of subjects. Feel free to send me a message if you have any questions or would like to schedule a tutoring session!
Tutoring Subjects
Physics
PSAT Writing Skills
ACT Science
AP Chemistry
+61 subjects
Chesirae: Boston Physics tutor
Certified Physics Tutor in Boston, MA
...of my students chose to take a gap year in France; now I'm helping him write and complete essays for his own Common App colleges. I've also completed an undergraduate degree in Liberal Arts at St. John's College in New Mexico, with multiple essays nominated for prize awards. In my time teaching, I've also taught elementary aged students literature and creative writing, middle school science, and high school drama and history. When I'm not tutoring,...
Tutoring Subjects
Physics
High School Level American History
English
Middle School Science
+66 subjects
Christopher: Boston Physics tutor
Certified Physics Tutor in Boston, MA
Every student has his or her own learning strengths and weaknesses. A Good teacher is able to discern those strengths and weaknesses, and tailor the lessons to match the student's optimal learning method. I try to determine the student's learning strengths and weaknesses as part of my tutoring effort, so that the student can get the most out of our sessions.
Tutoring Subjects
Physics
SAT Reading
Economics
Python
+94 subjects
100% Tutor Satisfaction Guarantee
At Varsity Tutors, we're committed to connecting you to top tutors capable of delivering an outstanding experience. That's why we provide a 100% tutor satisfaction guarantee.