PCAT Reading Comprehension Tutoring Near Me
Private In-Home and Online PCAT Reading Comprehension Tutoring Near You
Receive personally tailored PCAT Reading Comprehension lessons from exceptional tutors in a one-on-one setting. We help you connect with in-home and online tutoring that offers flexible scheduling and your choice of locations. Varsity Tutors helps thousands of people asking, "How do I connect with the best PCAT Reading Comprehension tutors near me?"
100% Tutor Satisfaction Guarantee
At Varsity Tutors, we're committed to connecting you to top tutors capable of delivering an outstanding experience. That's why we provide a 100% tutor satisfaction guarantee.
Looking for "PCAT Reading Comprehension tutors near me"? Varsity Tutors can help.
Many students wishing to impress pharmacy schools with excellent PCAT scores may brush over the PCAT Reading Comprehension section during their review in order to focus the majority of their study time on the test's Chemistry, Biology, and Quantitative Ability sections. These students may imagine that since they have encountered reading comprehension sections on nearly every standardized test they have taken before, the PCAT will present them with no new challenges. This is a mistake. The Reading Comprehension section on the PCAT is an examination of reading skills that is far more rigorous than those commonly encountered on tests like the ACT and SAT.
While it includes standard questions concerning a passage's main idea and supporting details, the definition of words in context, and aspects of tone and purpose, the section also includes questions that move beyond the literal information presented in a passage and challenge test-takers to draw conclusions, make inferences, and analyze the strengths, rhetoric, and subtle biases of the argument at hand. Having perhaps prepared for pharmacy school by following a curriculum in which reading comprehension has played a relatively small part, you may find yourself feeling unprepared for the difficulty of this section as you begin to review for your exam.
4.9/5.0 Satisfaction Rating*
Recent Tutoring Session Reviews
"A good portion of the session was spent reviewing the work assigned to the student. We reviewed her verbal work of sentence equivalence problems as well as problems pertaining to rates and multiple-variable word problems. Following this, I reviewed with her new material pertaining to circles and 4+-sided polygons for which I assigned homework from the prep book. Also, I assigned 1-23 from the reading comprehension questions."
"The student and I met for another session of GRE tutoring. In this session we first checked over a practice test she had taken for homework. She did very well, scoring in the low 160s on both math and reading. We then did work on coordinate geometry, data interpretation, and mixed geometry. With these lessons completed, I will begin to move on to more test prep as opposed to focusing on teaching specific subjects. Normally this a later portion of the tutoring, but she has moved through the subject material very quickly. "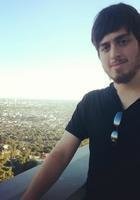 "We began the session by reviewing some practice problems he completed. We then went through mini review lessons on exponent expressions, the distance formula, surface area, and volume. We then did mini lessons on how to approach factoring problems. Simply because we had yet to encounter a problem involving factoring a quadratic equation, I never realized the student did not know how to factor, but he can expand expressions. Thus, I showed him how to eliminate certain options based on the lowest and highest coefficient term and then expand the remaining options to get the answer. We also went through how to reason through probability problems. We ended the session with him completing independent practice and me chiming in as need be. Today was our last session, as he will be taking the GRE on Wednesday. "