OAT Survey of Natural Sciences Tutoring Near Me
Private In-Home and Online OAT Survey of Natural Sciences Tutoring Near You
Receive personally tailored OAT Survey of Natural Sciences lessons from exceptional tutors in a one-on-one setting. We help you connect with in-home and online tutoring that offers flexible scheduling and your choice of locations. Varsity Tutors helps thousands of people asking, "How do I connect with the best OAT Survey of Natural Sciences tutors near me?"
100% Tutor Satisfaction Guarantee
At Varsity Tutors, we're committed to connecting you to top tutors capable of delivering an outstanding experience. That's why we provide a 100% tutor satisfaction guarantee.
Looking for "OAT Survey of Natural Sciences tutors near me"? Varsity Tutors can help.
Ask any pre-optometry student preparing for the Optometry Admission Test to describe the exam's most difficult components, and the Survey of the Natural Sciences section is most likely the portion of the exam receiving most of his or her attention. The OAT Survey of the Natural Sciences section simply demands a different set of skills than the science tests that you are most likely used to taking. The OAT Survey of the Natural Sciences section presents you with a battery of multiple-choice questions that can seem more like a word association game than a science test. In truth, you must master test-taking skills and strategies just as much as scientific knowledge in order to do well in this section. Where can you go to improve your test-taking skills? Instead of a trial-and-error approach, consider personal OAT tutoring.
Varsity Tutors can help you connect with qualified OAT instructors in your area who are not only knowledgeable about the content covered by the OAT Survey of the Natural Sciences section, but have taken the test themselves and achieved outstanding scores. They can help you improve your weakest areas of scientific understanding, and do so while honing proper test-taking strategies. You won't be lost in the back of a crowded classroom, or left on your own with a complicated review book. You can instead receive the full attention of a talented instructor and focus on mastering the concepts and strategies that you most need to learn. You may be shocked by how much progress can be made in just a handful of sessions. By focusing on your weaknesses through targeted review lessons, you can get much more out of every hour of study time. A focused approach to studying for the Survey of the Natural Sciences section can free up time to fulfill your many other extracurricular and coursework obligations.
4.9/5.0 Satisfaction Rating*
Recent Tutoring Session Reviews
"This was our first section. I had assigned him sections from the practice test online. We discussed the essays, one of which he had prepared, the other of which he was a bit hesitant about. Then, we worked through a number of the verbal problems, discussing general strategies as well as addressing particular issues. With regard to math, we began working through the section I assigned. However, as time ran out, we discussed the plan for homework and assigned the appropriate problems from the prep book as an introduction both to mechanics and to basic math review: Chapters 7 (arithmetic), 8 (algebra), and 11 (fractions and decimals). Likewise, I assigned the first 30 problems in each of the chapters for sentence completion and sentence equivalence."
"Today we continued to prepare for the prep test math section. In this session we went over ratios as well as rate problems. Once again she picked up the concepts very quickly. Soon after I explained the mathematical rules, she was able to solve very difficult problems. I also graded a diagnostic test in which the student scored very high, a 161 in math and a 156 in verbal. All of the signs point to her doing very well on the actual test. "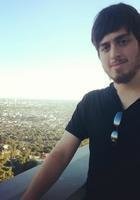 "We went over the online practice questions the student had done the week before and I pointed out some of the techniques that would have been useful on the questions. I emphasized skills and concepts that are tested frequently on the GRE. We then discussed ratios, percents, averages, plugging in on those types of questions, median, mode, and other topics. She completed some practice questions which I chose to review what we had gone over. "
Find Test Prep in These Cities
Find Classes in These Cities