Private In-Home and Online Phonics Tutoring in Nassau County, NY
Receive personally tailored Phonics lessons from exceptional tutors in a one-on-one setting. We help you connect with in-home and online tutoring that offers flexible scheduling and your choice of locations.
100% Tutor Satisfaction Guarantee
At Varsity Tutors, we're committed to connecting you to top tutors capable of delivering an outstanding experience. That's why we provide a 100% tutor satisfaction guarantee.
How can Phonics tutoring help you succeed?
Having a proper comprehension of phonics is very important for young students. Being able to develop the skills essential to pronouncing words and speaking English understandably is something that should be understood at an early age. That is why, if a child is struggling with phonics, it is important that they get the assistance they require to fix the problem at an early age, before they develop any speech-language issues. Fortunately, there are a number of private tutors who are happy to try to help your child get the assistance needed to succeed. If you are seeking phonics tutors near Nassau County, NY, Varsity Tutors could help you connect with a tutor who could meet your son or daughter's needs.
By contacting Varsity Tutors, you will be able to receive help finding a professional tutor. Our educational directors can assist you in locating a private tutor in Nassau County who is skilled at helping students prepare for phonics. Your youngster could be able to work in a personal, one-on-one session where they're able to speak without feeling self-conscious. Furthermore, private lessons give them the chance to engage with the instructor, which means your child can play an active role in the learning experience. Your student's tutor can work closely to help them sound out syllables, memorize vowel digraphs, and take part in activities that promote hearing and making rhymes.
Affordable 1-on-1 Home Tutoring by top RPI Grads! 4.9/5.0 Satisfaction Rating*
Session Summaries by Phonics Tutors
"At this session, we discussed Chapter 11 of The Hunger Games. The student was eager to understand this chapter, as it covers the beginning of the actual Hunger Games. Rather than read through the entire chapter together, I asked her to summarize what she had read, and then we went back to specific passages to read and clarify her understanding. The student understood the action taking place as Katniss escapes the "bloodbath" at the beginning of the games and then runs into the forest, finding a place to hide for the night. We discussed why Peeta might have joined the Career tributes who come, hunting other tributes, and why it seemed so uncharacteristic of him to do so. The student said that, for our next session, she would read to Chapter 14."
"The student was able to completely turn around his attitude and attention as we began to work, and it was a great session. He is having some trouble with identifying long and short vowel sounds and understanding the concept of rhyming, but I did see some improvement from the beginning to the end. He has mastered all of the original sight words, so we assessed the next level and will start to work on those. "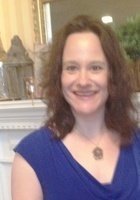 "We did a sheet identifying and writing Q. We did a sheet identify and writing R. The student read a sheet of short CVC words. He needed some prompting. We practiced onset and rhyme with the endings -an, -ab, -ig, -og, and -ug. He did best with the short a words. We did a sheet identifying words that start with h. He did well. We did a sheet identifying words that start with d. He chose some words that start with b and one that ended with d. We did a sheet identifying words that start with g. We did a sheet identifying and writing words that start with f. "