Private In-Home and Online Latin Tutoring in Nassau County, NY
Receive personally tailored Latin lessons from exceptional tutors in a one-on-one setting. We help you connect with in-home and online tutoring that offers flexible scheduling and your choice of locations.
100% Tutor Satisfaction Guarantee
At Varsity Tutors, we're committed to connecting you to top tutors capable of delivering an outstanding experience. That's why we provide a 100% tutor satisfaction guarantee.
Session Summaries by Latin Tutors
"We spent all of today's session going over the basic reactions in Organic Chemistry involving alkanes and alkenes. This includes free radical reactions, substitution, elimination, oxidation, reduction, and more. Although the test prep book doesn't cover mechanisms in detail, I made sure the student understood the arrow pushing involved in the major reactions. This part of the MCAT seems most difficult for her, but with practice, the 3-D visualization of Organic Chemistry should become clearer."
"We started by going over some vocab. flashcards- she is getting better with these, and I'm having her use the words in a sentence so she understands their part of speech and also their usage in context. She does most of them correctly, but with a few of the words she just knows the definitions so we will continue to work on this. We also worked on the quantitative comparison section- she is pretty good with these, but does have some trouble with some of them, especially when the questions are a little tricky. We will continue to work on these. We then reviewed the words she had struggled with in the vocab. again. Next time we will work more on the verbal sections and continue working on vocab. and the math parts. It was a good and very productive session!"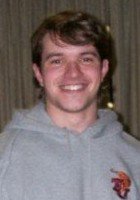 "The student and I reviewed muscle physiology by discussing the composition of muscle fibers, and how muscle contractions work. We discussed how the proteins interact and the role of calcium and ATP in creating a cross bridge between the myofilaments. We discussed process by which the myosin head is energized by ATP and how the cycle progresses such that the head can bind and detach from the actin binding site. We also went over the role of troponin and tropomyosin and how they interact with the actin molecule. We will review the cardiac myocyte and smooth muscle contraction the next time we meet. "