Nana: Kuala Lumpur C++ tutor
Certified C++ Tutor in Kuala Lumpur
...understand how frustrating it feels to spend so much time struggling to learn a topic and I also know how applying the right strategies to learning can make all the difference. For example, strategies such as close question analyzation can help students to mentally digest complex problems and help them assess the tools they can...
Andy: Kuala Lumpur C++ tutor
Certified C++ Tutor in Kuala Lumpur
...on their own. My job as a tutor is therefore to put myself out of a job. Whether we're conducting some side-by-side pair computer programming, or discussing high level concepts in object-oriented software design, or reviewing the formulaic steps to solve the quadratic equation, we seek the "A-ha!" moment where the student achieves a breakthrough...
Yash: Kuala Lumpur C++ tutor
Certified C++ Tutor in Kuala Lumpur
...helping students! I believe everyone is capable of learning with the right type of instruction. I have had my fair share of disappointments, but with the right kind of help, I have overcome many struggles. I believe learning doesn't happen in a day. But we should struggle to learn a little every day.
Mohammed: Kuala Lumpur C++ tutor
Certified C++ Tutor in Kuala Lumpur
...tutoring experience starts from way back in college days where I was actively involved in a tutoring program and tutored students in Mathematics (Algebra, Trigonometry, Statistics, Applied Mathematics etc.) and Computer Science (Java/PHP/Perl/JEE/C/C++/HTML/CSS/Android etc.). My daughter is currently in International Baccalaureate (IB) program and I have been her primary tutor since Middle school. Currently, I...
Charles: Kuala Lumpur C++ tutor
Certified C++ Tutor in Kuala Lumpur
Hello everyone! I love to learn and I love to help others learn. I'm a BS in Physics and I'm confident I can help with any math or physics.... When solving math and physics problems the best place to start is with the fundamentals. Sometimes I have to start with, "So what happens when you let go of your pencil?" Or, "When I divide by ten on this side what do I have to do to...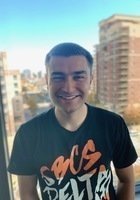 Tommy: Kuala Lumpur C++ tutor
Certified C++ Tutor in Kuala Lumpur
...students know already and building from there. The biggest teaching mistake I believe exists is starting from a concept that a student doesn't understand and unknowingly confusing them more. My goal is to get students excited about what they're learning and constantly remind them of the "why": how it all matters in the real world.
Rusty: Kuala Lumpur C++ tutor
Certified C++ Tutor in Kuala Lumpur
...well. My motto is "Teach the World", my corner of the world anyway. If a student is willing to put in the work necessary to learn a topic they are struggling with, I will never give up on them. I love to lead a student to what I refer to as 'The Archimedes Eureka Moment'....
Marissa: Kuala Lumpur C++ tutor
Certified C++ Tutor in Kuala Lumpur
...of expertise includes all math subjects up to Linear Algebra. I especially enjoy helping students prepare for AP (advanced placement) exams like Calculus AB (focus on differentiation) and Calculus BC (more integration and an introduction to series). I have intermediate experience in Java, C++, PHP, and Python. If online forums for these languages aren't making...
Hani: Kuala Lumpur C++ tutor
Certified C++ Tutor in Kuala Lumpur
...methods and study habits I teach my students are ones I have personally used and found to work, either in test prep or in math, science, and engineering courses. In addition to tutoring, I am always more than happy to give no nonsense advice to any student interested in going to engineering school. I look...
Private Online C++ Tutoring in Kuala Lumpur
Receive personally tailored C++ lessons from exceptional tutors in a one-on-one setting. We help you connect with online tutoring that offers flexible scheduling.
If you are looking for a professional to help you better understand important C++ concepts, Varsity Tutors can help you connect with private C++ tutoring in Kuala Lumpur. If you are a student at a university like the Universiti Kebangsaan Malaysia or you are working independently to develop your skills, working with a C++ tutor in Kuala Lumpur can be a great investment in furthering your knowledge. Keep reading for more specific information about how we can assist you!
Usually, you can expect most of your courses to follow a set pace according to a syllabus. However, experienced Malaysia C++ tutors can create lesson plans for you that progress at a rate that fits your academic needs. For example, if you demonstrate to your instructor that you already fully understand how to use basic C++ syntax to accomplish tasks like declaring an array, declaring a constant, or calling a function, your tutor can decide to spend more time on topics that need further development instead. Similarly, if you are finding software engineering topics like Big O notation, refactoring, or binary search to be challenging, your mentor can devote more of your instructional time to focusing on these concepts.
Additionally, Kuala Lumpur C++ tutoring can be a great asset if you are looking for an instructor to create lessons just for you using a particular learning style. For example, if you are a hands-on learner, your tutor can use pair programming to write code with you so that you can get direct feedback on your work. On the other hand, if you are a visual learner, a C++ tutor in Kuala Lumpur can use infographics that illustrate object-oriented programming principles like operator overloading, extensibility, and methods.
Kuala Lumpur C++ tutoring can also be a great way to learn since working one-on-one with an expert means you can get immediate feedback whenever you run into problems applying various concepts. Any questions you have while working on projects in IDEs like Sublime Text or Dev C++ can be answered while you work so that you can learn from your mistakes right away and apply new strategies.
Your Kuala Lumpur C++ tutor can also help you debug your programming if it is not working the way you intended. Your C++ coach can give you tips for better organizing your code moving forward so that you can edit it more easily in the future if you decide to accommodate a change in an API.
If you already have a number of priorities to attend to in your schedule, let us help you connect to Malaysia C++ tutors who can help you learn how to use C++ for programming operations like multithreading, exception handling, and preprocessing. We make sure to research each tutor's background so that you can work with someone whose qualifications can benefit your studies. In addition, your sessions will take place on our Live Learning Platform which allows you to study from anywhere you have access to an internet connection.
You can receive quality instruction when you use our platform to study with a Kuala Lumpur C++ tutor. For instance, your instructor can use the shared code editor to write code with you so they can show you how to use conditional statements like "nested if," "if," or "switch." Plus, your C++ tutoring sessions in Tel Aviv are recorded and saved for you to review anytime you need a quick reminder of how to use data structures in C++ such as structs, trees, or objects.
Contact Varsity Tutors so we can help you get started with private C++ tutoring in Kuala Lumpur today!
Your Personalized Tutoring Program and Instructor
Identify Needs
Our knowledgeable directors help you choose your tutor with your learning profile and personality in mind.
Customize Learning
Your tutor can customize your lessons and present concepts in engaging easy-to-understand-ways.
Increased Results
You can learn more efficiently and effectively because the teaching style is tailored to you.
Online Convenience
With the flexibility of online tutoring, your tutor can be arranged to meet at a time that suits you.
Top International Cities for C++ Tutoring