Private In-Home and Online Geometry Tutoring in Huntersville, NC
Receive personally tailored Geometry lessons from exceptional tutors in a one-on-one setting. We help you connect with in-home and online tutoring that offers flexible scheduling and your choice of locations.
100% Tutor Satisfaction Guarantee
At Varsity Tutors, we're committed to connecting you to top tutors capable of delivering an outstanding experience. That's why we provide a 100% tutor satisfaction guarantee.
Session Summaries by Geometry Tutors
"The student and I met to go over the new topics in her class. We covered area and perimeters of polygons. She was very knowledgeable of the subject, and I went over the general description and approaches. "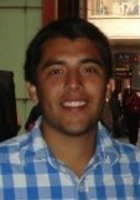 "We started the lesson with some problems on the angles in a polygon. The student knew that the sum of angles in an n-gon is 180(n-2) deg. Then I asked her to find the value of n. We then moved to the trig of a right triangle. I gave her 3 pieces of info and asked her to solve the triangle. Then I suggested she read a little bit of the math section of the SAT book every day, to improve the ability of setting up and solving different types of problems. "
"Today we completed the homework. Problems were centered on calculating properties of regular 3D objects such as pyramids. Square pyramids. Given lateral edge lengths, or base lengths, or altitudes, the task was to find lateral area, base area, and total areas for pyramids. Also, midpoints on the side were chosen and properties of a fractional pyramid were asked for. Strategies included finding right triangles inside the 3D solid, and therefore connect various lengths such as altitude, base length, or edge length, with each other. Student is confident in her ability to solve such problems on her own. Student is also confident about her ability to perform well on the upcoming final exam which will cover the subjects of the entire semester. "