Physical Chemistry Tutoring
Private In-Home and Online Physical Chemistry Tutoring in Highlands Ranch, CO
Receive personally tailored Physical Chemistry lessons from exceptional tutors in a one-on-one setting. We help you connect with in-home and online tutoring that offers flexible scheduling and your choice of locations.
100% Tutor Satisfaction Guarantee
At Varsity Tutors, we're committed to connecting you to top tutors capable of delivering an outstanding experience. That's why we provide a 100% tutor satisfaction guarantee.
How can a Physical Chemistry tutor help you?
Physical chemistry can be a difficult subject to understand, even if you are someone who has a strong background in chemistry. In order to do well in this course, you could be expected to incorporate principles of physics into your chemistry lessons. Furthermore, it is important that you have an understanding of this field if you plan on working in fields like engineering, renewable energy, and healthcare, as these fields typically expect one to be able to apply physical chemistry concepts in day-to-day activities. If you find yourself struggling to understand this field, let Varsity Tutors help you find a dedicated instructor. One-on-one tutoring in Highlands Ranch, CO, can afford you the ability to fine-tune your physical chemistry skills by asking questions and getting immediate feedback.
If you need extra help to try to do well in your physical chemistry course, we can find a skilled tutor in Highlands Ranch who can work with you. You could receive assistance finding a tutor who could create customized material that is suited for your personality, learning styles, and specific goals. This allows you to learn in a way that works best for you, so that you might be able to focus on achieving the results that you want without spending unnecessary time memorizing concepts that you already know. Furthermore, since each lesson is taught in a student-centered manner, you could receive valuable feedback and simplified explanations from your instructor as you learn about nuclear chemistry, thermodynamics, and kinetics.
4.9/5.0 Satisfaction Rating!* Contact us to hear why. We serve Denver and all suburbs.
Session Summaries by Physical Chemistry Tutors
"Today we covered Thermodynamics, which is the movement of heat into or out of the system. We went over the definition of work performed on a piston, energy changes, conversion units involving Joules, BTU, ATM and liters. We discussed energy phases, endothermic and exothermic processes, definition of enthalpy, enthalpy changes, and its application to word problems. We looked at previous homework assignments to review weak areas and improve the student's understanding about those concepts. "
"We first started going over the test the student took over a week ago, in which she did somewhat poorly on. Afterward, we started going over the new material with acids and bases and their titrations. The student found my techniques to solving such problems helpful. She will have a test on the chapter this Thursday. Would have been a good idea if a session can be held before hand. "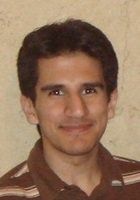 "The student apparently missed a class or two, so he had stoichiometry and gas law problem sheets that were overdue. We worked about a dozen of those problems. I re-emphasized the magic 22.4 L/mole concept and we worked a problem backwards, considering how big a containment vessel would be needed for trapping the gas generated from a half gram of dry ice. Although he basically understands the concepts fairly well, the material is agonizingly boring for him."