Private In-Home and Online GRE Tutoring in Geneva, IL
Receive personally tailored GRE lessons from exceptional tutors in a one-on-one setting. We help you connect with in-home and online tutoring that offers flexible scheduling and your choice of locations.
Get results. Guaranteed.
We're proud of our students and the improved scores they've achieved. We believe your student can do the same. That's why we promise to help them get a better score or we'll give you your money back.*
Session Summaries by GRE Tutors
"We mostly covered Verbal Reasoning Strategy. I introduced the student to the concept of argument dissection, reducing the reading of all sentences to the binary decision: claim or evidence? We worked through some example arguments to help her distill out the claim. I told her to map claims only, to do so after the end of every paragraph to avoid glazing. I introduced her to the concept of English as an SVO language. This required some practice delineating the direct from the indirect object. We practiced reducing complex sentences to their cores using such sentence deconstruction. I gave her advice on how to increase her attention span, including some books to read for pleasure. From there, we approached some questions she had regarding cell biology, primarily on enzyme kinetics. We discussed Michaelis-Menten kinetics, and how to interpret the two forms of the graph, as well as the meaning of K-m (a substrate concentration). As per our in-session discussion, she will perform a qualitative experiment on herself with a small sample of Verbal passages. She will do some by reading the questions first, and some by reading the passage first. She will see whether she felt more confident when answering the questions with either method, and whether that confidence was justified. She will report the results to me. Our next section will cover genetics. "
"This was the second time the student and I have met. He has received many articles since our last meeting, and brought a few with him including two he found particularly challenging. We reviewed strategies for approaching passages when they seem disorganized, or are on subjects we are not familiar or interested in. I emphasized the importance of reviewing the last paragraph when you complete a passage and are unsure of author's point of view, as they usually summarize it quite nicely for you. Also, questions should always be put in the frame of the author's point of view- if this is kept in mind it makes it much easier to get from the last two choices down to one. We then looked through a verbal section of one of his old practice exams to apply these new strategies. I will continue to send daily articles to him, and he plans to take another practice test before our next meeting. We will let this practice test guide our next session to address strategies and techniques for verbal, as well as for the MCAT as a whole."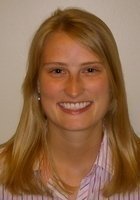 "The student and I focused solely on Verbal Reasoning Passages and strategies and I assigned a Critical Reading test for homework."