Private In-Home and Online Geometry Tutoring in Everett, WA
Receive personally tailored Geometry lessons from exceptional tutors in a one-on-one setting. We help you connect with in-home and online tutoring that offers flexible scheduling and your choice of locations.
100% Tutor Satisfaction Guarantee
At Varsity Tutors, we're committed to connecting you to top tutors capable of delivering an outstanding experience. That's why we provide a 100% tutor satisfaction guarantee.
Session Summaries by Geometry Tutors
"The student expressed confusion over postulates/theorems, medians, altitudes, and the use of the Hyp-Leg theorem. She has a good sense of geometric reasoning and just needs the list of formal postulates/theorems in front of her while working through proofs. We worked on problems that integrated medians, altitudes, and the use of Hyp-Leg to reinforce these concepts, and we focused on the logical flow of her proofs to help her reason through these more systematically; we also continually referred to a list of proofs/theorems so that she could identify her own reasoning in a formal rule. Lastly, we worked on proving parallel lines and proving quadrilaterals. This was a LOT of material covered in one session, but I had a mini-review session at the end where she seemed to recall most of what we covered. She has a cheat sheet to refer to should she forget the rules we went over."
"The student and I continued working and reviewing points of concurrency, incenter, orthocenter, circumcenter. He used angle and perpendicular bisectors, medians, midsegments, midpoints, altitudes, isosceles triangles, acute, obtuse, right."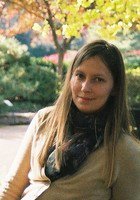 "The student's class has moved on to more coordinate geometry, specifically finding the orthocenter of a triangle given the three vertices. Conceptually, she does not have any problems. Her main concern was adding and multiplying with fractions. She also had some issues with keeping track of positive and negative components. Most of the session was spent practicing that by finding the orthocenter."